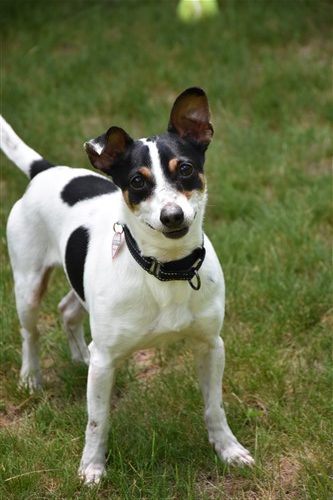 ADOPTION PENDING!!!!
Russell is a male, nine-year-old tricolor Jack Russell with an undocked tail who weighs a skinny 13 pounds.
Jacks Galore was asked to take in this little jack from a shelter in middle MA where they were unable to diagnose him properly after a couple of fainting spells. Surrendered to the shelter by his owners, who were no longer able to keep him due to personal circumstances. There is no doubt that this family loved their dog, his personality is adorable and gentle! We of course agreed to help this sweet little boy.
Here at the sanctuary we brought Russell into the house to be able to observe what we were told was happening. We never saw any of the incidents they mentioned, but when taken to the vet and having done extensive bloodwork it appears that Russell has Insulinoma.
Unfortunately, this is not a disease that we can predict how many years he has left, in general, it is not too too long, but with feeding him 3 to 4 small meals a day he's coping beautifully and thriving in our care. During his neuter our vet found a mass on his spleen, performed a splenectomy and the mass diagnosed as benign. Every time we draw blood it is looking better, and we have much hope that he will thrive in a forever home.
This is certainly a special needs case, but he eats a regular diet, is extremely loving, and just wants to play and have fun. He gets along fabulously with other dogs; he is fully housetrained, does well in a crate and is just looking to be part of a family that will adore him.
He deserves better than living in the sanctuary with 18 other dogs who have no other choice but to be with us. Russell deserves a home, deserves to sleep close to his humans and snuggle on the couch watching TV.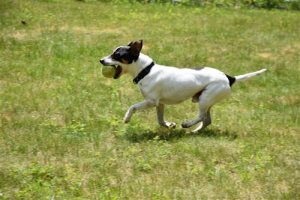 Great on a leash, fine in a crate, loves to romp, and is as cute as a button!!  Anyone willing to offer a loving JRT some quality time?  Apply to Adopt Russell