ADOPTION  PENDING!!!
Mr. Duke is a one-year-old male Tri color Jack Russell Terrier weighing in at a muscular 17 pounds. Mr. Duke came to us from a veterinary clinic in Maryland when the vet reached out to ask us to take this dog into rescue. Admitted to the hospital on an emergency basis, his owners did not have the funds to cover the emergency surgery, nor the lengthy hospital care required afterwards. We agreed to have him signed over to the rescue and assume all costs for his care.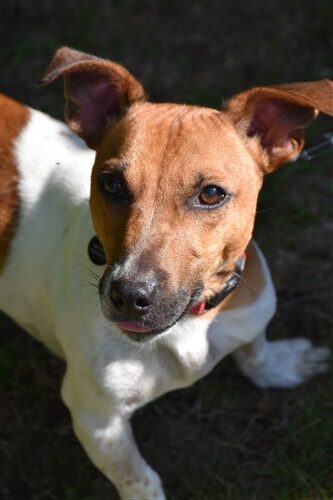 Once his treatment began, he had surgery resulting in the bladder stones removed, and those that were lodged in his urethra, which was the cause of his inability to urinate. The surgery to remove them went well, and we are very grateful he survived, and he has healed beautifully. To understand his back-story you can read about him here.
How best to describe Mr. Duke? ALL Terrier! Young, high energy, prey driven, athletic, ball catcher, race walker, best kisser, enthusiastic!
A most wonderful JRT who has healed beautifully and will not have any long-term effects from his bladder stones. These unusual stones were caused by  testosterone because he was not neutered.  Once neutered this has resolved the matter and the bladder stone from forming. Another reason to neuter your male dogs.
Mr. Duke rides very well in the car and was an absolute model patient at both the emergency vet hospital and for his final check up with our vet. This boy is housebroken; he walks very enthusiastically on leash and will keep your pace in high gear. Looking for any critter along the way; ready to jump into action should he be able to catch it.
This boy is good with other dogs, but wants to play with JRT enthusiasm.  A "russell" who loves people, he gets much enjoyment from jumping up and giving kisses (and nose nips). An absolute wonderful little Jack Russell Terrier who will provide his new family with a lot of fun, love and laughs.