Goofy is a one-year-old male Jack Russell/Chihuahua mix.  A pretty tan color, he weighs a very lean 9 pounds with long legs.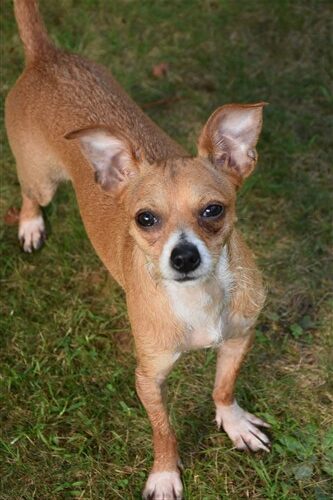 Goofy came into rescue with seven of his family members when Animal Care and Control was looking for help placing them. This group of family members were purposely bred as Jack/Chi mixes.
A little shy at first, but after just a day or two he's absolutely everybody's best friend. He loves other dogs, and is willing to eat out of the same food bowl with his roommates. Goofy is fairly well housetrained but might need a refresher course once he is living in a home.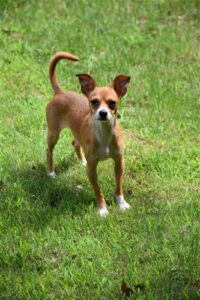 Racing around like crazy, that is the one thing he absolutely loves to do. Preferably, Goofy likes holding a toy in his mouth and challenging the other dogs to catch him. A wonderful little boy who can be carried around if need be, and will want to be with his human to learn many new things and see what the world really holds for adventures. Very very sweet and loving, great kisser, and very gentle.
Goofy, whose name does not do him justice, absolutely needs to have a fenced yard and preferably another dog companion. Someone should give this wonderful dog a chance!