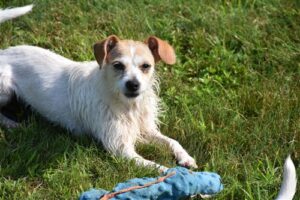 Clarabelle is a one-year-old, white with tan ears, rough coat female Jack Russell terrier cross. Clarabelle is wonderfully long legged and weighs a very diminutive 12 pounds. She has a lovely white mane and very expressive eyes.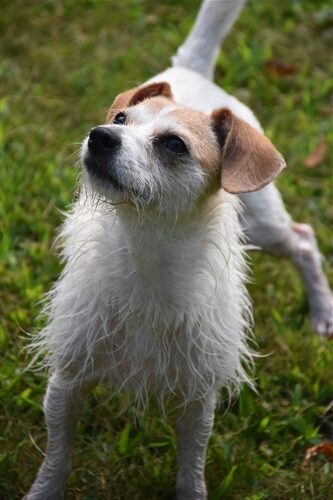 Clarabelle came into rescue with seven of her family members when Animal Care and Control was looking for help placing them. This group of family members were purposely bred as Jack/Chi mixes. Like her group mate Goofy, Clarabelle can be very shy in the beginning, not quite sure what to expect of new people. It does not take long and once she knows and trusts you she is just the friendliest, sweetest and most loving jack there is.
Clarbelle appears to be very bonded with her roommate Minny, they share the same bowls to eat, and they chase each other up on the agility field and play like crazy banshees. They might do quite well going to the same home as a pair.  This girl though definitely gets along with other dogs.
There is one thing you can say about Clarabelle; she is extremely high energy. She races around the agility field like a speed demon with a toy in her mouth just for the fun of seeing how fast she can go. Her roommate Minny, even though a quarter her size, will chase her like crazy, and cut her off at the pass, often times catching the toy.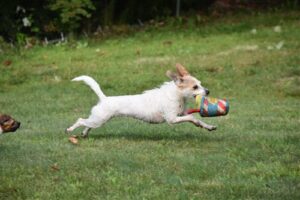 This Jack mix is crate trained, she is quite clean in the kennels, but she's not a very confident girl and does not know what leash walking entails. Certainly a dog worth giving a chance at a wonderful life. Clarabelle absolutely needs a fenced yard, as she is prey driven.