Jackie is a 1-year-old black and white rough coat female who weighs about 14 pounds with a lovely lanky build under all that fur! Jackie like so many of the dogs we recently brought into rescue came from a breeder who no longer wanted her. We said yes to bring them into our care, as all of those that ventured into Jacks Galore have been lovely, if not shy, all blossoming in their new forever homes.
Jackie is one of the dogs we got in who is probably the most shy and a little fearful. She will need extra patience and lots of love to allow her to come out of her shell and trust people again. She is very sweet, and when you hold her, she wraps her paws around your arms just to make sure you are holding tight.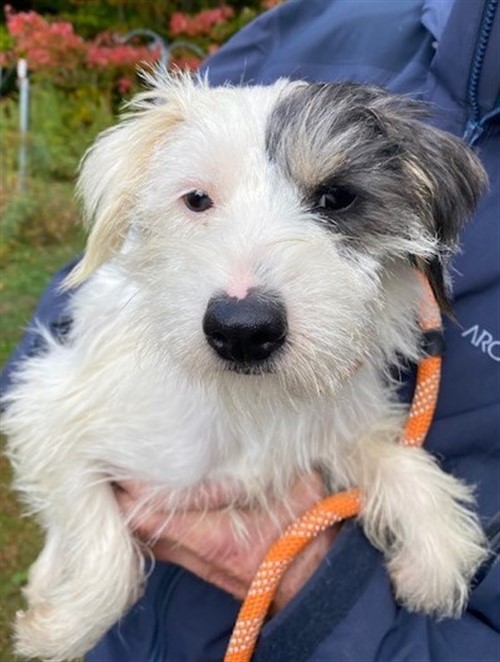 This JRT is very clean in the kennels, so house training should not be difficult. Jackie has no idea what it means to walk on a leash, so she will need to learn this task. Jackie does get along with other dogs, and would do best if she had a male companion in the home. This will help her learn the ropes of being a family member and what it means to be loved. A dog who's settled within a family acts as a great guide and mentor to a dog who has never known what it means to be a pet.
Jackie does fine in a crate, she was a very good patient at the vet. In typical terrier form, she enjoys squeaky toys and chews.  A quiet dog very observant as to all the goings on around her. We would love someone to give her a chance to blossom, to truly become a JRT where she can enjoy life, be with people who teach her to play and love her dearly.
Once you meet her, you will see how worthy she is of being adopted. Apply to Adopt Jackie