We are a small rescue group that spends our donation money on vet bills, dog food and any and all items for the dogs.  We hope that you will be a part of helping the Jack Russell Terriers that are on their way to their forever homes or to help those that we are helping heal before they move on to their lucky future.  You can submit a one-time donation, become a rescue sponsor or donate a toy.
Jacks Galore 2018 Planner
Every book sold will help support another JRT waiting for their forever home, or those living their days out in comfort and safety at Jacks Galore. Three donations of $10, $15 and $25 each are incorporated into the price of the book.
Purchase the Jacks Galore 2018 Planner (this links to the Blurb book site)
About the 2018 Planner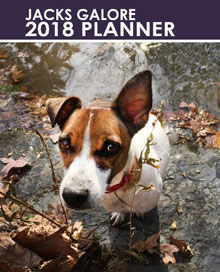 2017 was an exceptionally busy year; with a multitude of Jack Russells needing to come into rescue, a Jack rescue in New York permanently closing its doors, lots of shelters and Humanes reaching out asking us to take their JRTs declining in a shelter environment, and dogs coming in with much needed vetting and training. Throughout all of this, we successfully adopted over 100 jacks, and our wonderful JRT forever homes have once again proven that there's a home for every Jack we take in.
Many of the pictures seen in this calendar are some of the many alumni of Jacks Galore, and others of supporters who love their Jacks and share their antics and daily rituals with us. We all love a very tenacious breed of dog, and they fill our lives with joy, laughter, and very often frustration; but at the end of the day we cherish what they stand for and how much they give back. We hope that all of you will enjoy seeing these wonderful and very personal photographs, and that by buying this book you are supporting our rescue in a small way.
This will help us continue our mission of saving as many of these dogs as we are able. We hope that when you're ready to pick out that next wonderful four-legged companion that you will consider adopting a Jack, and know that there's one for every Jack lover out there. Thank you for being part of the solution, for helping us save as many as possible.
Have a wonderful 2018 and may there be less Jack Russells in need.
Jacks Galore 2018 Calendar
Jacks Galore is a family run Jack Russell Rescue coordinator located in Massachusetts. We take the frustration, confusion and length of time out of dog adoption. We will help you find the perfect match for you and your family. We work closely with you and rescues/fosters to help you adopt the best Jack Russell Terrier. All proceeds from the purchase of the 2018 Jacks Galore Wall Calendar support Jacks in need.
One-Time Donations
Become a Rescue Sponsor!
Monthly donations are a great way to help us do even more to save lives and find forever homes for our terriers. As a Jacks Galore sponsor, you'll make a difference by providing steady income that we can count on to do our work of providing shelter, food, veterinary care, love and protection.
When you sign up to be a Jacks Galore sponsor, your contributions will be charged automatically via PayPal on an ongoing basis (once a month for 12 months). Your sponsorship donations are tax deductible.
Each sponsorship subscription lasts 12 months (i.e., $10 sponsorship = $10 x 12 months = $120 total). We offer four sponsorship levels: Bronze – $10, Silver – $25, Gold – $50 and Platinum – $100.
| Bronze – $10 | | Silver – $25 | | Gold – $50 | | Platinum – $100 |
| --- | --- | --- | --- | --- | --- | --- |
| | | | | | | |
All donations are tax deductible and you will receive a receipt for your support.
Donations to Jacks Galore from Chewy.com
Toy Donations
If you feel so inclined we can always use toys, balls, chews and treats for the dogs if you feel like helping our jacks in need and those being cared for by Jacks Galore.
Donations can be mailed to:
Jacks Galore
P.O. Box  545
Hinsdale, Massachusetts 01235