We are a small rescue group that helps dogs and our rescue partners with money for vet bills, dog food and any and all items for the dogs.  We hope that you will be a part of helping the Jack Russell Terriers that are on their way to their forever homes or to help those that we are helping heal before they move on to their lucky future.  You can submit a one-time donation, become a rescue sponsor or donate a toy.  We even have a 2023 Jacks Galore calendar (see below).
One-Time Donations
Become a Rescue Sponsor!
Monthly donations are a great way to help us do even more to save lives and find forever homes for our terriers. As a Jacks Galore sponsor, you'll make a difference by providing steady income that we can count on to do our work of providing shelter, food, veterinary care, love and protection.
When you sign up to be a Jacks Galore sponsor, your contributions will be charged automatically via PayPal on an ongoing basis (once a month for 12 months). Your sponsorship donations are tax deductible.
Each sponsorship subscription lasts 12 months (i.e., $10 sponsorship = $10 x 12 months = $120 total). We offer four sponsorship levels: Bronze – $10, Silver – $25, Gold – $50 and Platinum – $100.
| Bronze – $10 | | Silver – $25 | | Gold – $50 | | Platinum – $100 |
| --- | --- | --- | --- | --- | --- | --- |
| | | | | | | |
All donations are tax deductible and you will receive a receipt for your support.
Jacks Galore 2023 Calendar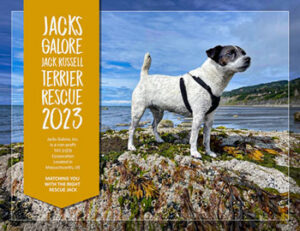 Welcome to Jacks Galore 6th Annual Fundraiser Calendar. Jacks Galore is a family run Jack Russell Rescue organization located in Massachusetts. We are here to take the frustration, confusion and time out of dog adoption. Every penny over the cost of the calendar production goes directly to support Jack Russells.
Published Date: November 06, 2022
Product: Wall Calendar
Start Date: January 2023
Paper Weight: Heavyweight Gloss
Other: Twin-Wire Loop or Plastic Coil Bound