Julie is a four-year-old brown and white smooth coat shorty female Jack Russell who currently weighs a chunky 14 pounds (she should be closer to 12). Julie, like her sister, is now on a diet. Julie came into the rescue with her roommate Jill, but they will be adopted out separately.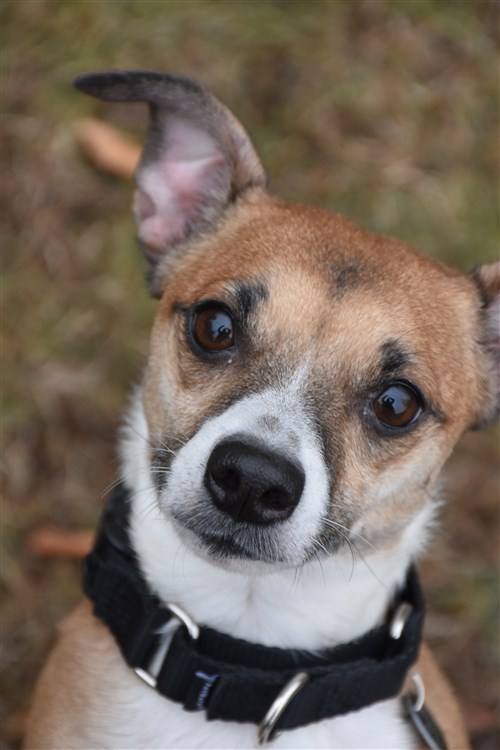 Their elderly human sadly ended up in assisted living because of health issues after a fall. The dogs were alone for a few weeks with the kindly neighbor taking care of them until we were able to bring them to JG.
Julie is very shy and will need patience as she learns to love her new forever family.  A quiet home would be best, but once she trusts you she is a love bug magnet and cannot get enough of your touch and snuggles.  Julie has an enormous amount of energy and loves to run around. She does not appear to have any interest in toys, tennis balls, or chews, but she would love to have a dog companion she could play chase with.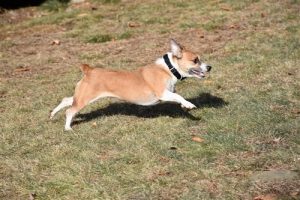 Julie is housetrained, very well behaved, but does not seem to be very comfortable at this point walking on the leash. Our guess is that they were never walked much, if at all, but kept inside the fenced yard for potty and exercise. Currently Julie is very fearful when taken out of the kennels and we carry her up to the agility field to play. Once she is off leash on the field she runs like crazy, comes up to you looking for affection and is interested in smelling every corner of the field. She rides well in the car in the crate, but does not like the crate when outside of the car; she is uncomfortable in it.
She is affectionate, and wants human love, a very gentle little soul and a most amazing snuggler and great kisser. Julie, like her sister Jill will need time to feel comfortable in their new home with their new family, but then will certainly blossom once settled knowing they can trust again.