Jacks Galore is late in giving some easy gift suggestions for the holidays, but we'll still do it as many of us are late shoppers and anyway there's STILL time!!  This year we have several wonderful suggestions for your gift giving and hope you'll take advantage of them and also support those people who support rescue.  One of our adopters, Betsy Miller, sells these Elizabeth Swift Designs and has created a special collection of Jack Russell Terrier-themed bracelets and necklaces to benefit the extraordinary work done by the volunteers of Russell Rescue, Inc.  All profits from the sale of these pieces are donated to Russell Rescue, Inc. and its various state affiliates.  Jacks Galore has been a lucky beneficiary of some of these sales along with other jack rescues.  For each bracelet sold the rescue organization receives $30; for each necklace or charm sold it gets $10.  The bracelets and necklaces use the highest quality sterling silver and gemstone components.  All bracelets are carefully crafted with special attention to the crimps and fastenings.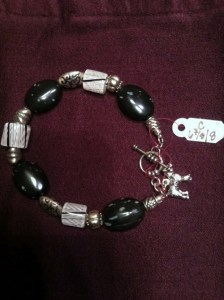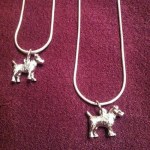 JRT Benefit Bracelets: These handmade bracelets are designed using Bali sterling silver beads and findings, snowflake obsidian gemstones, and David Christensen hand-blown black and white cane glass beads.  All are carefully crafted with special attention to the crimps and fastenings.  While all the bracelets in this collection have the same components, each is unique and individual; each features a wonderful Jack Russell Terrier charm from Rembrandt Charms.  The charm is solid sterling, hand-polished, and comes with a lifetime guarantee.  Bracelets are $70, of which $30 are donated to Jacks Galore.
JRT Benefit Necklaces: Necklaces feature a sterling silver snake or sterling silver box chain in 16″ or 18″ length, along with the Rembrandt Charms Jack Russell Terrier charm.  Necklaces are $32 for 16″ and $36 for 18″, with $10 from each donated to Jacks Galore.
JRT Benefit Charms: This wonderful Jack Russell Terrier charm is from Rembrandt Charms.  It is solid sterling, hand-polished and comes with a lifetime guarantee.  The charm is approximately 5/8″ long and is $25, with $10 from each donated to Jacks Galore.
Items are limited to current stocks.  Bracelet sizing in each picture is inside circumference (indicating the size wrist it will fit)/total length.  If ordering a bracelet, please refer to the letter on the tag.  Orders should be sent to betsy.miller@mfs.com; shipping costs average about $7 (UPS ground with a tracking number).
As we mentioned last year, another great gift idea is handcrafted note cards created with much love and fun by Leslie Hemsing.  A jack rescue owner and huge rescue supporter, she makes the most creative cards and paper crafted combinations that bring joy to any recipient.  These are cards for all occasions, so nice to receive in the mail.  Leslie designs JG's cards and we always have fun with her marvelous ideas for dog-related thank yous.  Check out Leslie's website at Willow Walk Cards. (These also make great hostess gifts!!)
I always like to suggest a subscription to two marvelous dog publications for the dog lover in your life or yourself: The Whole Dog Journal and The Bark.  They're not only amazingly informative but fun reading and full of new knowledge, facts and ideas.  Both are also rescue-related and supportive so check them out and spoil yourselves with these two enjoyable reads.
The highest-quality dog beds come from JG's favorite dog catalog, The Orvis Dog Book.  They're in the upper price range but our dogs love them.  These beds are always on my wish list when anyone asks for a gift suggestion (well, it's on our JACKS' list for gifts, but they're our joy so they get the gifts in this house).
For winter, our favorite dog coat, from Foggy Mountain Dog Coats, you can order them, through us, but there are plenty of websites available that sells them, a large variety of designs, styles, colors and patterns, they seem to fit the jacks in our lives perfectly, and keep them snuggled warm despite cold and snow.
And lastly, for an inexpensive fun stocking stuffer or in a card as a thank you can buy the most wonderful car magnets promoting rescue.  Not everyone likes their car plastered with messages but I like to reinforce the "adopt don't shop" mentality so if I have space for it I do.  Who knows: maybe one person will get it and go to their local shelter and save a life?
And of course, please donate to your local shelters, rescues or groups that help animals.  Remember, if you can't afford to donate monetarily then maybe you can give some of your time to volunteer: walking a dog, cleaning a cat cage, raising funds for the local group, or helping collect pet food for a local food bank. There are many ways to help dogs, and those that may just need food to stay in their home mean a dog life saved.
So please, this holiday season think of those less fortunate, both animals and humans, and lend a hand.
We also very much hope you'll continue to support Jacks Galore, help us save jacks, and allow us to keep finding forever homes for all the pooches that come through our doors seeking help.  Please donate if and what you can, any amount helps us continue the mission we preach: save a jack, save a life.
Happy Holidays to all, however you choose to celebrate, and don't forget the season's theme in all you do – give in abundance of yourself and your time.  We're repaid many times over when we take the time to volunteer or say a good word.  Thank you all for all you do to support rescue, all of us are very grateful for your kindness, your encouraging words, and your spirit of giving.
Love your jacks, hold them tight, and when you see a cry for help from a dog in need please don't turn away but step up any way you can…..a life saved is a precious one to that one dog.
From the entire JG family we say Merry Christmas to one and all, and the jacks send licks and tail wags.