PEPE UPDATE – FUNDS RAISED!!! 
Pepe will be on his way soon in early August.  We will keep everyone in the loop of this gentleman's journey from Spain.  Thank you one and all for helping Tracy reach her goal!!
An email from a foreign land, a desperate plea for help, a Jack Russell destined to die in a no kill shelter where care is not able to be provided, an American student who took him off the streets but could not help him complete his journey to America. This is Pepe's story.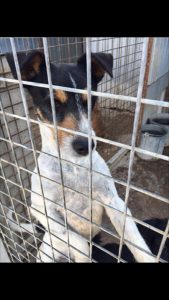 Jacks Galore was asked to perform miracles, and bring a dog called Pepe from Spain to Massachusetts. With already limited funding to provide for our jacks in need here in the United States, JG decided to make one promise; if someone can get the dog to the United States to a main airport on the East Coast, we would take him into our care and find him a forever home.
A friend of the student studying abroad, dog rescuer and JRT lover Tracy, decided to step in and try to work miracles. Pepe needed to get out!  Although the dogs were provided with basic food when available, the dogs are given no medical care or physical activity, only living in crowded small cages with multiple dogs taken off the streets or brought in by good Samaritans. Already for two years Pepe had been in the confines of this place in very rural Spain outside of Barcelona, where few are ever adopted. So Tracy decided to make things happen; starting her hard work with diligence she now has a Go Fund Me page to try to raise the money in order to bring Pepe to America.
This may seem crazy to many of you when he we have so many of our own homeless pets, but I was not willing to turn away a Jack Russell in need if other JRT rescuers were willing to complete their end of the bargain and make it work. Who are we to turn away a jack in need? Every once in a while we make exceptions to the rule, and when we saw this beautiful boy we knew we could find Pepe a forever home and give him the life that he probably deserved.
Considering his roots he might never have known a forever home. Pepe is a very young long legged rough coat with beautiful tricolor markings; kind, sweet, calm, loves other dogs, and shows all the traits of a wonderful jack russell. Could we say no? Impossible! If they are able to get them out of "jail"; on our end we have coordinated an adopter/volunteer ready to pick Pepe up at New York's international airport when he arrives.  We are on standby for when the funds are raised, and when he will be pulled from the shelter to then make his lengthy journey from Barcelona to Madrid to New York to Massachusetts.
What an adventure, what a life he could eventually lead. Sometimes we do crazy things, but sometimes a rescue has to think out-of-the-box, and step up when the need is there. I hope you will support us in this endeavor, and rally behind Tracy to get Pepe into our loving care. And THEN, into his forever home.
Tracy's Go Fund Me page can be found HERE