Left to fend for himself on the streets of New York City, newly named Calvin came to us via another rescue that pulled him from the New York City shelter because he was on death row. We agreed to intervene and nurse him back to health from what was obviously severe neglect.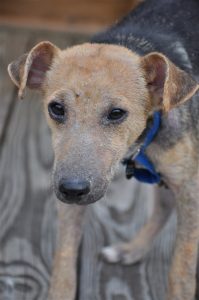 The dearest, sweetest, most gentle tan and black little jack mix who in the future, when he's healed and healthy, will most likely weigh about 13 or 14 pounds. Calvin, who we presume to be a nine month old jack Russell, mixed with some Italian Greyhound, is the most quiet soul.
Very lean with a sleek racing body, Calvin is currently terribly undernourished and skinny but is eating high quality food, enjoying every meal and will soon show signs of putting on weight once again. With his tail always tucked, he greets you with a smile and two beautiful liquid pools of dark eyes, tail wagging softly beneath his bony body, looking for recognition and love, and longing to be whole.  Currently unable to walk without pain because of his swollen paws, on the grass he shows interest in the tennis ball and the desire to play.
Calvin will be going to the vet first thing Monday morning, not only does he still need to be neutered, but our vet will see what next steps Jacks Galore must take to heal him from his obvious mange, his puffy little feet, and scabby face. We will do everything we can to bring this dog back to be the beauty he deserves to be, and most likely once was, and show him that there is someone out there who will love him and nurture him to where he will be a dog once again.
Calvin likes other dogs, is very clean in the kennels with a dog door, and truly wants nothing more than to be petted and adored and be by a human he can trust and love.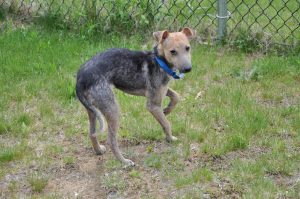 We will soon be doing a fundraiser to not only help Calvin heal, but to help several other dogs currently in our care who require some major vetting. We hope that you will not only step up to support our efforts in healing these needy dogs, but also perhaps Apply to Adopt Calvin.