A pair of remarkable jacks, Hugh is a 3 year old brown and white 15 inch stocky 16 pound smooth coat male named for his parading around with his harem of two gal jacks.  Daisy is a delightfully energetic copper and white 2 year old 11 inch smooth coat gal who has borne his pups on more than one occasion.  Saved by a show barn owner whose equine vet came to the rescue, they came to Jacks Galore to find the home they so deserve.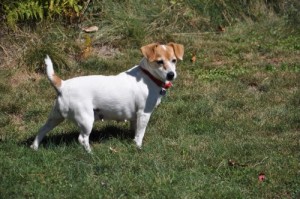 Daisy and Hugh will be adopted out as a pair for they are quite bonded, hunt well together, and are free spirited and active.  A fenced yard is an absolute must for these two, and an active busy family that will give the pair long walks, lots of ball playing and a chance to snuggle and schmooze!!
Hugh is a powerful young man, racing when he has the zoomies after the ball, faster than a cheetah and as graceful when in full tilt.  A gentle snuggler, he's quiet and calm and knows how to show his affection for all humans.  Attentive and kind, he rides well in the car, is crate trained, listens when Daisy is involved but might need some refresher course on his housetraining skills, but it will not take long, he is one smart jack, and obedient.
Daisy is a dynamo, quick, smart and listens well.  She leaps and runs like a gazelle, sailing through the air to find that chippie, the grasshopper that got away or the mice in the fields, she is a hunter extreme like her mate Hugh.  A mom of many litters, she no longer need to worry about that anymore but is a devoted kind and sweet jack who loves and adores her belly rubs, is a major kisser and just relishes the human attention with abundance.  She's crate trained, rides well in the car and seems to be housetrained.  Daisy can be so demure, with a twinkle in her eye she will win your heart over.
These two jacks are not only handsome but amazing in character, what a joy to watch them in motion, what comfort when they come to show their affection, and how happy they seem as they race free in the fields.  A very special package of two jack come and be won over!!