Vinnie is a 12 week old jack mix whose mom was a Parson's jack, who our rescue partners help whelp; his dad?  Doxie, terrier, who knows; but a small size for sure.
Naturally docked tail, gorgeous brindle coloring (his litter mates were tan and white and are already in their forever homes); Vinnie is smart, brave, beautifully socialized and ready for a very active life.  His foster mom does agility and said he would be super at it.  There is no fear in this stubborn, loving, busy little pup.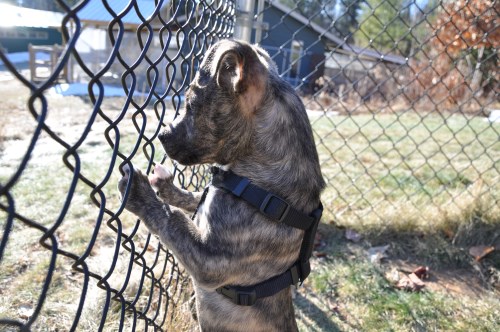 Ready to go to his forever home, Vinny, the mob boss as his foster calls him, would blossom with other dogs in his life.  He would thrive in the company of an older dog to lead the way.  Ready for action weighing in at 8 pounds, we want this little dude to know the life in a home not a kennel or foster "camp".
Sweet, very affectionate and playful, we hope he will be claimed real soon and settle into his forever home in the New Year.  Come in and adopt a pup…..this one is a real catch.