ADOPTION PENDING
Turbo is a one and a half year-old male, black and white rough coat Jack Russell cross, who weighs a tiny 9 pounds.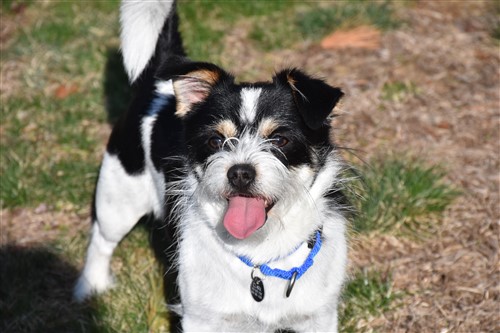 This adorable little dog came to us because he had already been in two homes and a kind woman took him in to make sure he landed safely with a forever family. When she reached out, we agreed immediately agreed to take him in. Her intention was never to keep the dog, but to make sure that he did not end up in the wrong hands. Now he is safe with Jacks Galore.
Turbo is very unsure of himself, new sounds, movements and people all frighten him and it took him a few days to trust us. Now that he feels more secure, he has become more confident and is enjoying his walks and playing ball on the agility field. This little boy is very clean, he rides nicely in the car and does not mind the crate if it is not for too long.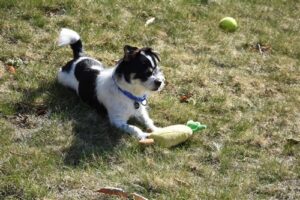 When he meets friendly dogs, he is very interested to join them for a walk and wags his tail with much glee. He is still very uncertain and fearful about meeting people he does not know, but with time that will lessen. He loves to play with squeaky toys and chasing the ball, but returning it is not in his repertoire at this time.
Turbo is a very loving little mix who enjoys, but is very shy about giving his person soft kisses. Deserving of a permanent and safe forever home, Turbo will provide many years of fun.