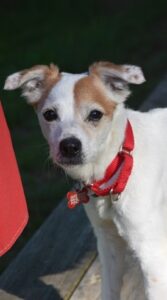 Tota is a 10-year-old female, brown and white broken coat Jack Russell cross. Tota's ideal weight is about 17 pounds but she is currently slightly underweight.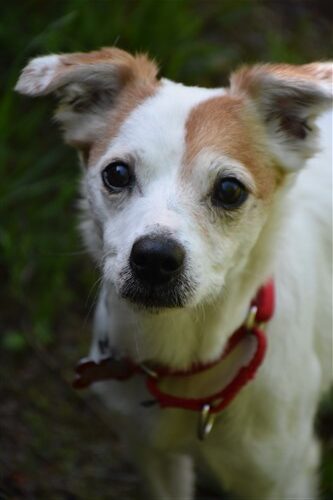 Tota came to our rescue when sadly her human had to go into assisted living. This lovely Jack Russell Terrier was an emotional service dog for about 5 years until the young woman sadly had to move into assisted living because of health issues.
Originally, this little cross was adopted from a southern rescue. Tota has been an amazing companion, very loyal and loving and because she lost her person, had begun to lose weight. This lovely female never left her companion's side and brought much comfort to her person. Now that Tota is with us, she is starting to gain that weight back and thorough vetting allayed any of our concerns about her health.  Full blood work shows her to be in perfect health.
Frankly, you would never know that she is already 10! Tota is extremely energetic, has a lovely fast pace when she walks and has an enormous amount of energy typical of a Jack Russell of a very young age. An avid hunter, she is very prey driven. Tota walks beautifully on leash, is very well behaved, perfectly housetrained, calm and very devoted to her people. A little shy at first when meeting someone she does not know, she quickly becomes affectionate. She has been described as being very patient.
Tota really just enjoys being with her human, she has not shown too much interest in toys but that might possibly change when she's back in a home. Her one drawback is she absolutely does not like other dogs. She walks fine on leash around other dogs, just does not want to meet or live with them. Tota is a very good traveler in the car, and was extremely well behaved at the vet where she certainly was a favorite.
There are afternoons when she quietly sits on her outdoor bench observing with keen interest the goings-on at the house. A beautiful, sweet doe eyed elegant cross, she will bring anyone much joy for the many years she still has ahead of her.