Skippy is a 9-year-old brown and white, smooth coat, long legged male Jack Russell Terrier. Currently slightly overweight, ideally Skippy should weigh about 17 pounds.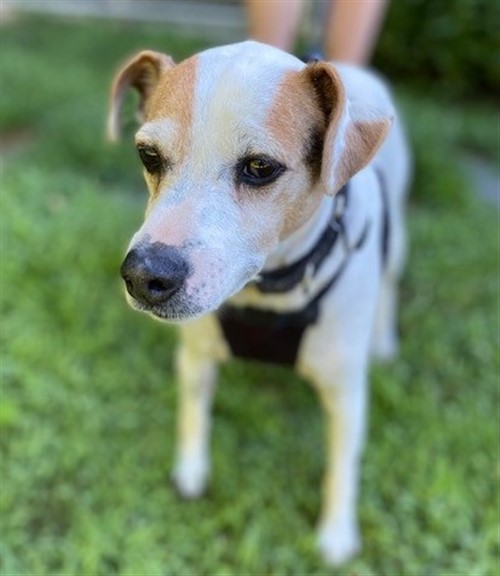 This handsome JRT came to us because his owner passed away and the military family was moving to the West Coast and unable to take Skippy with them.
A Jack Russell through and through, he loves to hunt, dig holes, chase small critters and has a LOTS of energy. Skippy enthusiastically goes on his walks, beautifully on leash but with a great pace and can go for miles! Definitely a very strong Jack Russell who does not resemble his 9 years of age.
He loves to run on the agility field and sails through the air doing zoomies.  This dog travels beautifully in the car; he is housebroken, and very gentle.  We have not seen Skippy interested in any toys, but that might change over time in a new home. He was an excellent patient at the vet and they all thought he was quite charming.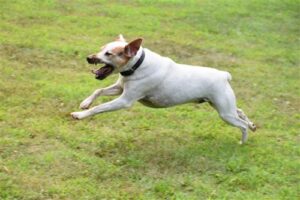 Skippy tolerates other dogs fine, is quite neutral about them, but in the home if there is another dog, then the relationship falters around food. Skippy would do best as an only dog, and will tolerate a visiting dog as long as there are no meals or food around.
This terrier is in excellent health, he just had a dental here at the rescue and so his pearly whites are shiny and his breath sparkling. A lovely Jack Russell longing for a forever home and to be loved again as he was before his owner died.