ADOPTION PENDING!!!!
Sadie is a 7 month old, female tricolor Jack Russell shorty who weighs a muscular 11 pounds.  This adorable little girl came to us because of some resource guarding issues in the home and so we welcomed her with open arms. We are now providing her with training to make sure she understands what being a good Jack is!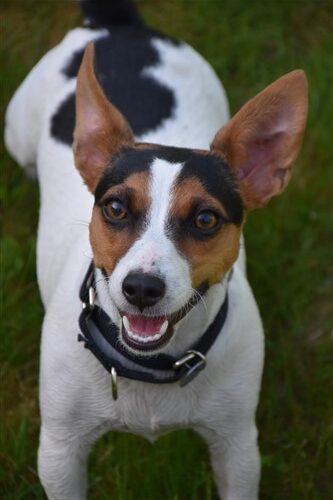 Sadie is a crackerjack and a whirlwind of a little girl, enjoying her twice-daily hikes. She walks beautifully on leash keeping a delightful pace turning back for pats as she goes along the trail. Sadie loves to explore and is very prey driven.
This pint-size JRT does not like other dogs, so she will need to be in a home on her own, an extremely active home where she can truly blossom as a terrier. Sadie is extremely smart, learns very quickly. A great traveler, she is housetrained and loves people, seeking attention every minute she can. Everyone at the vet adored her and she made everybody laugh with her antics.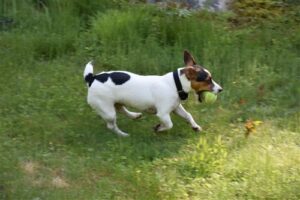 Sadie loves to tear toys apart, squeakers go first and she's an absolute ball fanatic bringing it faithfully back for repeated tosses. MANY repeated tosses! She's super fast, amazing how quickly those little legs can carry her. Sadie also loves the water and used to go fishing with her dad.
Experienced jack Russell home required, she may be cute, but she's a handful!