Rascal is a 4 year old, smooth coat black and white male JRT cross, who even though muscular, needs to lose A LOT of weight to get to his ideal 18 pounds. Already shed 6 pounds; his waist is emerging!!!  This most delightful boy came to us from a family who adored him.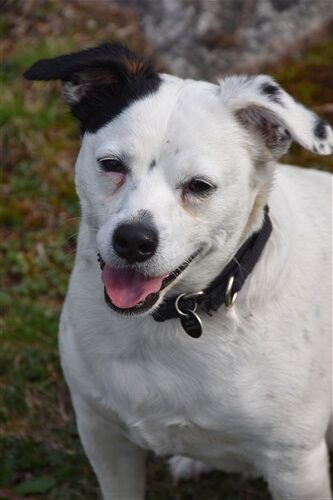 After adopting him from the south, one of their larger dogs in the house wanted nothing to do with him.  He went to a family member who was not equipped to take care of him and he was overfed and had no exercise. We warmly welcomed this delightfully happy, joyous mix.
Rascal is very well housetrained; he is good with other dogs, but is  dominant.  Rascal loves to play with other dogs, he is a rough player, so a larger pal might be best.  He could also he a single dog or in a home with a submissive female or a dog who is non committal; this will best suit his nature.  He greets all with tail wagging.
This JRT mix certainly ADORES all people.  Extremely active, loves his long morning walks with a gentle enthusiasm, and is willing to play ball when motivated. Squeaky toys are his favorite, relishing the squeaks with no destruction, just loves to carry them round.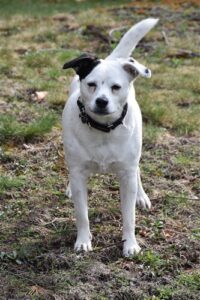 Sitting out on his dog bed and enjoying the activity around him, we see his interest in being with his people, quietly watching the goings on. He rides nicely in the car, tolerates the crate, and is a very devoted loving mix.
A sweet twinkle in the eye, he longs for those belly rubs and a warm hand to guide him home.  Apply to Adopt Rascal