Porscha is a five-year-old female tan and white shorty Jack Russell terrier who weighs a very petite 11 pounds. This energetic fireball came to us when she started to fight with the female Border collie mix in the house. With two toddlers and three dogs it became too much and she was brought here to the rescue.
Do not be misled by her small stature, because this little dog is all Terrier and has a lot to say! Porscha got along with the male Aussie Shep cross, but not the male jack in the home, but she definitely cannot be with any female dogs. Very dog selective, a mellower smaller dog would be best suited to her personality.
This petite Terrier is very well housetrained, and is a great traveler in the car. Since she spent a lot of time in the crate in her previous home, she is not that fond of it, but well behaved so no need for her confinement. Porscha is a bit hesitant with new people but does warm up quickly and then is a love bug when it comes time to snuggle and rest.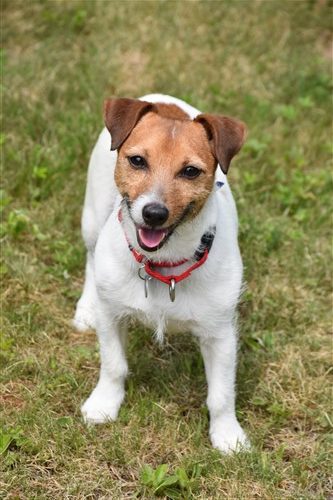 As far as walking or any outdoor activities, she's right by your side with energy to spare. The good news is she can pull you up any hills you encounter on your daily walks; she does not tire. Very very prey driven, there are not many critters who escape her senses, and she is bound to tackle a chipmunk or a snake while you stroll along. Chasing the ball is another activity she enjoys, but hunting; that tops the list. Fenced yard preferred!