ADOPTION PENDING!!!
Phoebe is a two-year-old tri-color, smooth coat female Jack Russell mix, weighing a muscular 17 pounds.  Phoebe came to us from our rescue partner who pulled her off craigslist.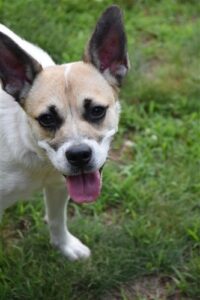 This delightful girl was living in an apartment, in a crate all day and then trained on pee pee pads.  Not much exercise in her life.  The person who had gotten her as a puppy no longer had time for her.
This young Jack cross is extremely athletic, and really enjoys long walks starting off quickly but then meandering at a lovely pace. She is a youthful dog with high energy and loves to play with other dogs – hard.  Despite her youthful demeanor she has a mellower side and loves snuggle time with her humans. However, most of all she also loves to partake in outdoor activities with a robust 3-mile hike in the morning and enjoys some ball tossing in the afternoon.
She seems to do quite well with other dogs, and enjoyed the dog park with her first adoptive family.  Phoebe was briefly in the Jacks Galore sanctuary with 15 other jacks, but most of our dogs are very old and were not interested in playing with her. Phoebe did go to a home where she was much loved and appreciated, but because she did not appear to be fully housetrained, they returned her.
She is very well crate trained and she loves riding in the car. With her foster in VA and in the Jacks Galore home, she did not have any accidents at all, BUT she did have a dog door where she could let herself out at any time. A star at the vet, everyone loved her.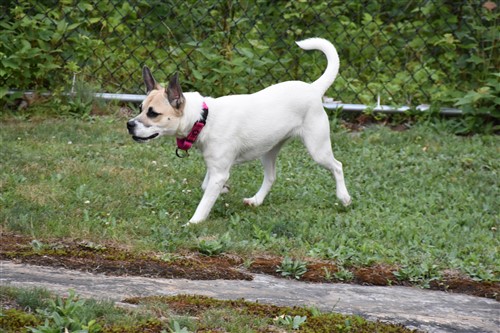 Phoebe is very difficult to photograph and the pictures do not do her justice, her delicate beauty does not shine through. She has warm, curious, kind eyes, and an adorable little "soft" face. One needs to meet her to appreciate this mix, a gem of a dog waiting for that special someone to keep her active and loved.
She is worth every effort one puts into giving her a routine and an active life.  This jack would thrive doing dog sports.  Apply to Adopt Phoebe