ADOPTION PENDING!!!
Jarred, "Jerry", is a 4-year-brown and white, rough coat male, who weighs 14 pounds. Sadly, Jerry came into rescue because his owner died and no one was able to take him in. One kind family member reached out to us knowing he deserved a great future.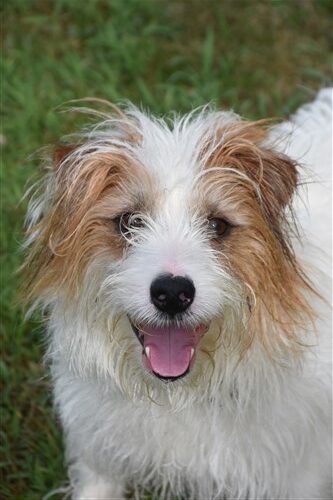 This adorable fuzzy Jack Russell Terrier came from not so humble beginnings, but has retained his wonderful JRT character and sweetness. This little boy absolutely adores going out for adventures even though he grew up never knowing what it meant. He is great on leash and will gladly accompany you for very long walks keeping a lovely lively pace.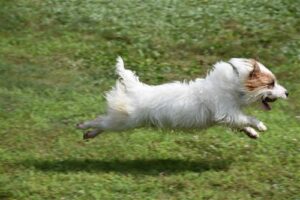 This jack is also a great traveler in the car, but occasionally will bark at a truck if it passes by too closely, making sure that everyone remains safe!
An amazing ballplayer considering he never had the opportunity to learn the game, he will bring it back time and time again for you to keep tossing it. He absolutely loves to run and chase the ball.
He has been very clean in the kennels, has excellent manners and loves to be around people. He does not like too much fussing about, and will let you know when he's had enough. He's a very calm dog, not much seems to faze him except for passing trucks. This Jack has not shown much interest in toys, but that might change once given the opportunity to play.
Jerry does fine with other dogs, but is neutral and does not engage. He will be shy and walk away from a dog that seems too upfront. He also does not seem to be interested in associating with them. That might change if he lives with one, but he has never had another dog in his life so perhaps he just doesn't seem to know what it means to have a dog pal.
Jerry's first 4 years of his life were spent sequestered in a house with an elderly person and only let out in the yard on occasion. Even that was kept to a minimum. The inside of the house seem to have been his only world. He is now absolutely relishing the outdoors, taking in every breath of fresh air with glee and joy.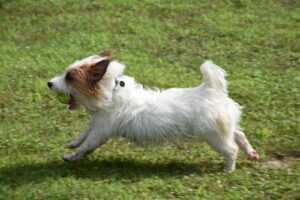 A happy-go-lucky little dog who deserves to have a wonderful long life ahead of him with lots of ball playing and attention. Apply to Adopt Jarred