Jada is a 10-year-old brown and white female, smooth coat shorty Jack Russell. She came to us when her owners left her behind when they moved, and the person who took her in could no longer keep her.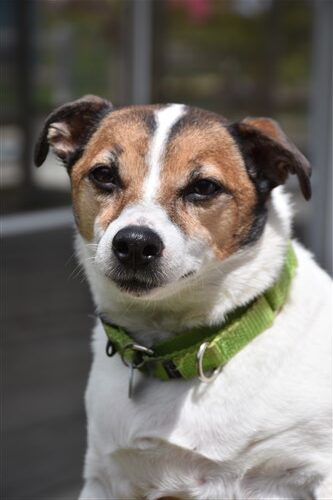 Like some of our other current residents, she has been overfed, and needs to lose quite a bit of weight. She currently weighs 20 pounds and we are aiming for her ideal weight at 12 pounds. With lots of exercise and a strict diet, she will certainly trim down.
We are so glad that we took her into rescue; there is no sweeter, calmer and more loyal JRT. Currently she is in the sanctuary with 15 other jacks and gets along with all of them. Because we had no more room in the kennels she was very easy to bring into the house and temporarily be part of the pack until she is adopted.
Jada is housetrained, rides very well in the car and is crate trained. This little girl is very relaxed, quiet, but longs for the affection of her human and be very much a part of your life. Kisses are given readily, belly rubs and ear scratches are appreciated. Obviously, by our above statement she gets along with all dogs.  Jada enjoys walking and is very calm on a leash, and once loses her weight will enjoy a longer stroll.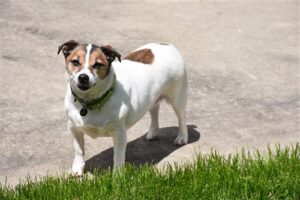 Here at the sanctuary this little girl definitely enjoys being outdoors and will want a fenced yard. An affectionate JRT waiting for a REAL forever home.