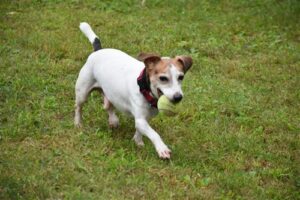 Jack is a 13-year-old tricolor male Jack Russell Terrier who weighs a very delicate 11 pounds. Jack is a Jacks Galore alumnus adopted from the rescue in 2019. Unexpectedly his person passed earlier this year and sadly was brought back to us. The only other family member works 14-hour shifts and was unable to give Jack the attention and time he needed. We always are here for our Jack Russell Terriers, no matter if they need to come back into rescue.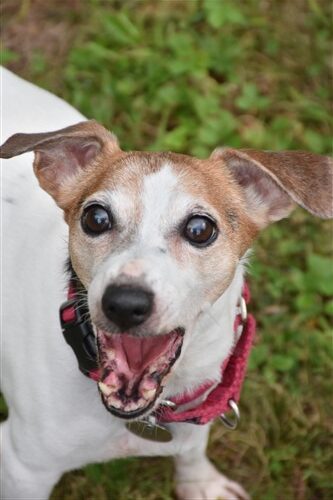 Jack is a delightful senior who is very opinionated and extremely loving. He enjoys daily walks, he loves to play ball on the agility field and loves to bark at you to make sure that you start throwing it so that he can chase it. Rolling in the grass with a constant smile, he just enjoys keeping company.
Jack can be protective of his toys with other dogs, which is why as a senior he was brought to a shelter in 2019. Jack is housetrained, but does better having multiple trips outside, is a great snuggler and enjoys the company of his person. Jack is quite gentle, but loves to play a rough tug-of-war and is always willing to engage with the rope. This senior JRT came to us with lots of toys, and he sure loves his squeakies!
He is extremely lonely and misses his person terribly, we hear him howl in sadness when it is quiet. Very polite at the vet, he did have a dental with our vet before he was adopted 2019 and is still in perfect health. Jack enjoys car rides looking out the window to see where the road leads him.
A dear little dog that needs to have a home that will love him in the years ahead. Apply to Adopt a Jack