Honey is a 7-year-old brown and white rough coat female jack with an undocked tail.  Having regained her healthy weight she comes in at 12 pounds. Honey's story is one of sadness and neglect; found as a stray, starved, and taken to a shelter in WV.  We work closely with several of these rural shelters, so when asked to help we of course agreed.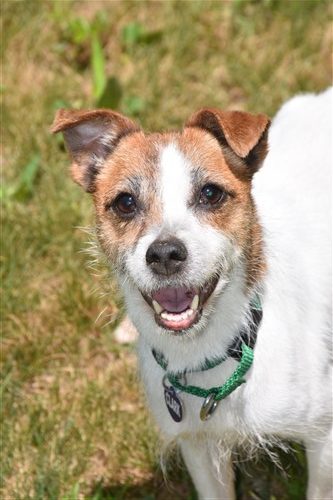 We like to give these dogs a chance to heal and find the forever home they have deserved from the time they were born.  After some research of her microchip, it was found that someone living in a hotel had abandoned her and thus we are more than happy that we stepped up. She MUST have been loved early on as she is sweet and has that zest for life despite what had happened to her.
Full of energy in that JRT fashion, she walks beautifully on leash and enjoys long and interesting sniffing walks, enjoys lolling in the grass, and shown affection.  She loves toys thrown to chase, playing tug of war and snuggling.  A very well housetrained dog, she gets along with male dogs (no females please) but is quite possessive of her toys and food when other dogs are around.
She is rooming with Chase and they enjoy each other's company, they are fed separately and Chase is not into toys, so all is well.  Easy solutions.
Honey is crate trained, rides well in the car looking out and observing her surroundings. This girl is very good with people and enjoys attention.  So loved at the shelter they named her Honey!
We are wishing her a safe and loving forever home, showing her kindness and security into her old age.