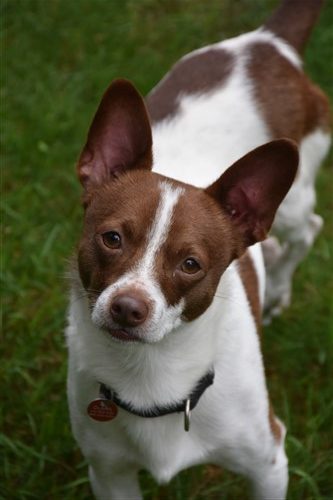 ADOPTION PENDING!!!!
Gobey is a three-year-old brown and white male Jack Russell mix who weighs a very lean 14 pounds with an undocked tail. This wonderfully sweet dog accompanied the hoarding group of Russells to MA because we were asked if there was any way we could add a Jack Russell mix who had been hit by a car. If not he would be euthanized. We absolutely agreed after seeing the pictures and are so happy that we took him into rescue.
This delightful Jack mix was on the streets for a long time after his injury and according to my vet during the healing process must have been in enormous pain. "His will to live was incredibly strong" and my vet agreed we are going to do everything we can to make him more comfortable. Having been fully x-rayed, we now see that he was severely crushed in his pelvic region and his left hind leg totally wonky and hanging almost doubled over by his side. He is NOT in any pain.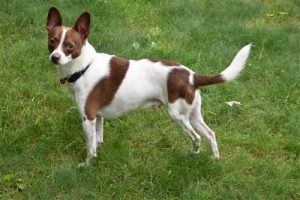 His pelvic area has healed somewhat crooked but does not affect him in any, which is a small miracle in itself. He will never have great muscle mass in his hindquarters, but he is very strong in the front and already does not use his dangling leg, so he is officially already a well-established tripod.
Surgery for his amputation and neuter is on the 21st and he will be made as good as new. Hopefully, before he is adopted we will take him for some rehabilitation swimming to strengthen his remaining hind leg even more.
An exceptionally sweet, gentle and happy little boy, it is just amazing to us that the dog could go through what he did and still be enjoying life. He must have been somebody's pet, because he walks beautifully on a leash, is housetrained and very well behaved. He loves to go for walks and enjoys playing with a few of the dogs.  This dog is in no way hindered by being a tripod. A quiet JRT mix, loves to snuggle but is also extremely playful and enjoys being with his person.
Gobey (named after the street where he was found) loves other dogs and is very tolerant. Gobey is currently living in JG's sanctuary until he is adopted because he is such an easy, happy loving jack. So very deserving of a happy, safe, loving home, we know someone will fall in love and enjoy his stellar character.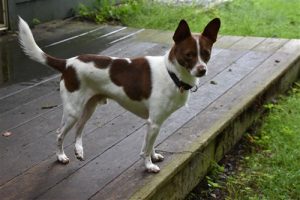 Apply to Adopt Gobey