Conan is a 10-year-old male smooth coat brown and white Jack Russell, a sturdy weight of 15 pounds.  Conan has been adored his whole life, but due to personal circumstances Conan came to us for rehoming.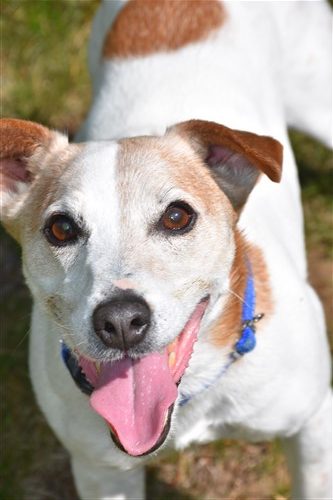 What a joy this dog is, enthusiastic about life and his walks.  Another powerhouse hunter he spent a great deal of his life outdoors controlling the critter population.  A prize-winning catcher, he has managed to nab quite a few prizes on his walks, long before we see anything!
Full of energy on the agility field, we have not seen much interest in playing with toys but he will chase the ball to entertain his person. A gentle dog with an active mind, he is very good with people and enjoys being snuggled when he done patrolling the outdoors.
Conan would welcome a female dog as companion, and perhaps a gentle male.  Conan rides nicely in the car, is not a fan of the crate, and is very well housetrained. With delightful high energy, a 100% Jack Russell Terrier who can easily powerhouse walk for 3 to 4 miles while you try to keep up, and then patrol the yard for any invaders.