For a little Jack who came into Jacks Galore from a shelter as a wounded soul, she was given a Christmas gift that many rescue dogs will never know: a forever home that will let her spread her wings like a Jack should. JG mom cannot think of a better home for this little three-legged warrior, as Janet and Jerry have opened their hearts and went above the call of duty when they took Angel in. Now known as Dixie Angel, our little Southern girl will live with her fur mom and fur dad in Delaware and share her life with their three-legged rescue jack Yogi.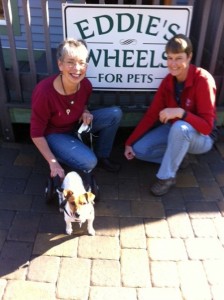 A reconnect with a friend from 2009, Janet came into Angel's life as a blast from the past, and will work tirelessly to keep her healing and make her whole once again. Our desire to put Angel in her forever home before Christmas was made possible by the amazing help of our local Fitter Critters, who worked tirelessly with our twice-weekly treadmill and laser therapy session to put her on the right path to becoming a tripod. We are well aware that Dixie Angel will most likely never be a tripod while taking a regular walk, and that's what her Eddies Wheels are for, but we're hoping she'll become a three-legged marvel while in the house or going out to do her business in her lovely fenced in backyard.
Packed up safely in their crates in the back of the car, puppy Lok and Dixie Angel embarked on a very long day's journey to their homes. Lok left us in northern Delaware where he was met by his new family while Angel and JG mom headed south. Upon arrival it was obvious she' going to be spoiled rotten! Jerri fashioned a specially designed toy box with her new names on it, filled to the brim with stuffed animals, balls, and various and sundry toys; Dixie Angel didn't know where to begin so she kept looking up at me as if to say "is this all mine?".
But that was only the beginning! Janet pulled out more toys, showed Dixie Angel the teddy bear pile and Yogi's corner, and she danced under the Christmas tree shaking and squeaking the various gifts she'd been given. Water bowls in every room, new dog beds especially for her and three new blankets with her name embroidered on them.
But best of all was the very beautifully built Dixie Angel dog ramp that went from the back sliding door to the wonderful green grass below. Crafted to perfect dimensions, with soft outdoor carpeting, Dixie took to it like a duck to water. Even Yogi now thinks it's the best way to come in and out. The effort and love that were put into making Dixie Angel welcome and comfortable in her new home are awesome! Already signed up for weekly water therapy and laser sessions almost an hour drive away, she even had her first vet visit the day after she arrived to make sure that she was logged into her new clinic. Of course everyone fell in love with her there too!
Her first night went well, sleeping safely in a corner of the bedroom, Yogi holds court on the bed while Angel has her own corner specifically designed for her in case she has "an accident". Angel will never have control over her bowel movements, so this is a perfect setup for her to be with her family yet stay clean through the night. So much care and thought have been given to Dixie Angel's needs and accommodating her handicap: there is nothing this little girl will want for. Two very special and dear adopters have opened their hearts and their home to a little "broken" jack, giving her that continued support to lead a fulfilling life.
The very short time this little Jack graced us with her presence, her enthusiasm for life and her will to live truly gave us a very special gift this year. All adoptions are special, all Jacks leave a little hole in our hearts when they move on to a life where they'll be forever treasured, but Dixie Angel gave the word rescue a new meaning for us.
Never give up, try as hard as you can, and believe, believe very hard, that for every Jack there might just be a forever home. It may not be today, it may not be tomorrow, but we have to hope it will come.
Merry Christmas everybody, celebrate the season in the true meaning, and take the chance to give back to those you love and care for. And always, ALWAYS think positive and NEVER give up. And PLEASE love your dogs.