ADOPTED!!!!  Shortly after posting a long term applicant raised their hands – our jack Ernie needs a girlfriend, she looks perfect!!  off to NH she went, JG mom already headed to NH for a trip up north took the newly named Millie on a road trip to her forever home.
Just recently we had the joy of taking in a litter of seven puppies in need of forever homes. We called them the Alabama seven, although only six made it up to us since one little girl ended up being adopted by one of the vet techs at the office where we sent them, immediately to be checked out and inoculated. We made sure that mom was spayed and up-to-date on her shots so an accident wouldn't happen again; and we brought six of the loveliest little creatures up to find families of their own.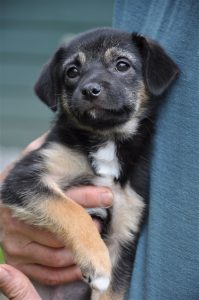 Going through the applications, five of the little jack mixes found their future, but loner little girl is still in need. We know that their mom was a Jack, as our rescue partner worked with the owners to make sure the puppies were safe. Dad remains unknown, but by their temperament and looks we're pretty sure the dad was perhaps a Pug. A lovely breed that will compliment the jack character.
Who is left is an adorable tri color, mostly black/brown girl with two sweet tufts of tan at the base of her ears making it look as if she is wearing bows.  Nothing more endearing than this little girl with her enthusiasm, smarts, playfulness and puppy breath. Now she is all alone, wondering why she was left behind. We are looking for the right home for this energetic pup; she needs a lot of time with her new family to learn to be properly housetrained, be socialized with other dogs, and know how to be a happy and healthy jack.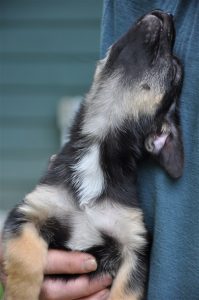 Now almost 13 weeks old, she has been spayed, microchipped, soon will get her last DHPP and her rabies; but is ready to now go out into the world and enjoy a long happy life. Extremely smart , she  is very loving and gentle (except for the puppy piercings) learning the bathroom regiment and just enjoys getting into puppy trouble; eating leaves, pulling grass, chasing balls, jumping to catch bugs, and being rambunctious when out in the yard.
Are you that terrific puppy home for a tot who will most likely not grow up to be larger than 15 or 16 pounds, a nice jack size perfect for portability, lots of activity with long walks and snuggling in your lap?  She is waiting for that someone to take her home.