ADOPTED!!!!  ALL puppies are now headed to their forever homes the first weekend in October, to be jacks, to play, to be loved, and of course to cause trouble – they are jacks and they will be active and happy in their forever homes.
Thank you Camp Wagalot for helping bring them up right!!
Jacks Galore has been blessed with two litters of puppies, and we are hoping to send them all on their way as soon as they are spayed and neutered – to REAL jack homes!!  We were asked to help a vet with one pair and a gentleman we know to help with these dogs in need.  Both parents are purebred jacks, and small in stature.   The puppy's parents are sweet, affectionate, well trained, active and loving jacks.
Of the two litters, a total of 8 puppies, the only two girls born do have marvelous JRT savvy homes, but we have some little boys left that need a forever family; a family that can provide a jack with the proper home – and what is that?  Lots of activity, positive and early training, mental stimulation, love forever, patience, understanding and most of all kindness.
A jack is a breed not meant for all, they are not pets in the usual sense of the word because they are active, working dogs that need a job and mission; and, they can be fiercely independent.  They are smart (too smart we might add); dogs that thrive on a lot of interaction with other dogs, people and the world; jacks that want to be part of the plan.
When a jack is asleep at the end of the day, he is a happy canine; he is then a sweet, funny, mischievous part of your lives.  Apply to adopt a pup; we look forward to hearing from you!!   May these little critters have the life they deserve.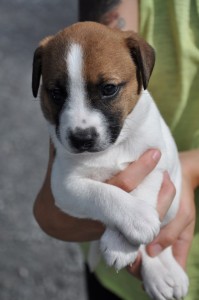 Apply to adopt a puppy