ADOPTED!!!  Staying in MA he will now be able to play ball whenever he wants, and be at ease without much competition for his toys or anything else he desires; including his human.  A dog who will now be understood and happy.  Happy days ahead.
Athletic, quick, ultra smart: these are just some of the superlatives that describe Zorro, an 18 month old Parson's rough coat jack who landed at Jacks Galore when his second home could no longer accommodate his needs with all its roommates and work schedules.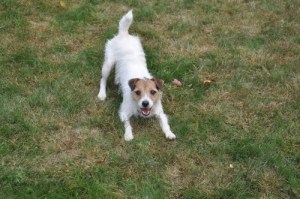 A tricolor, 10 pound, lean racing machine, Zorro NEEDS to play ball, NEEDS long long walks and needs lots of attention and mental stimulation.  A true jack: hunter, racer, and major bossy pants!!!   A delightfully sweet, affectionate, snuggling overactive jack, he makes his breed proud.  Housetrained, good in a crate, rides well in the car, Zorro is a portable exercise machine.  Zorro is fearful of some movements and strange sounds, but nothing that cannot be worked with.
He is quite particular with his dog pals but has roomed with several good mellow dogs; preferably a female, but would be a great only dog as well.  Zorro is a jack russell, a REAL jack russell, and will need an experienced jack owner with knowledge of the breed.
This dog needs to work, but work he will if given half the chance, and at night will love you and snuggle you back with thanks.  If you can race over to claim him you might just catch him on the fly
Apply to adopt Zorro