ADOPTION PENDING!!!
Zeke is a 1-year male black and white rough coat who weighs a mere 11 pounds. This dynamo of a terrier come to us from a breeder who closed down her operation, and so we gladly accepted the group into rescue.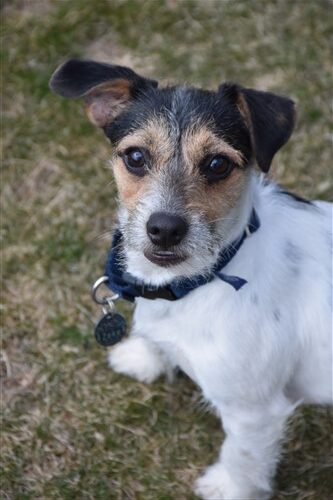 Jacks Galore adopted Zeke to a wonderful family where he was more than adored, but JG mom underestimated this pup's strong personality! We have reevaluated this strong willed russell and feel a one-person home with another dog pal would be ideal.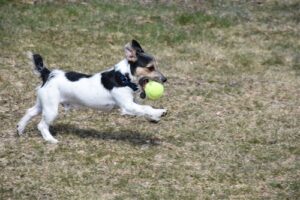 Zeke LOVES other dogs, plays well with his partner – zoomies and tug of war. Nevertheless, you can also find him snuggling with his roomie quietly by the window observing nature (meaning squirrel patrol).
A JRT who adores his person, needing the security he never had when he lived in a large pack of dogs struggling to be heard and seen. Zeke is housetrained, travels well, and loves to play ball nonstop with his hoomans bringing it back and flinging it at your waiting hand.  This little terrier entertains himself quite well with his toys. A great walker on leash, a good pace with nose in the air catching all those great wildlife smells.
Outside the home he is all kisses and love to everyone, but guards his person in his home to the fullest extent possible.  You are HIS and nobody else gets to share.  A most adorable strong willed little jack, Zeke is the personification of a terrier who thinks he is the size of a horse!!!
Gentle, loving, fun, full of sugar and spice, he truly wants his very own person to love.  Apply to Adopt Zeke