As the songwriters, Bert Bacharach and Hal David wrote:
"What's it all about, Alfie?
Is it just for the moment we live?
What's it all about when you sort it out, Alfie?"
Four-year-old Alfie has had a real rough time of it, and the first four years of his life have been nothing but frightening. A survivor of the New Jersey puppy mill 188ers, he found his way to St. Huberts shelter when all of them were saved from deplorable and cruel conditions. They did an amazing job last year and made sure that all of these dogs found their way to safety.
Friendly and good with other dogs, he was quickly adopted, sadly to a very inappropriate home. Something the shelter could not have foreseen. In his first home, he was not shown the patience and understanding he deserved, and another dog in the family made him fearful of his four-legged friends. Returned to the shelter, he went out again with a hopeful forever home but after 36 hours he was returned for having PTSD like symptoms.
What are we to expect? What do we expect of these dogs that have been raised in misery, fearful of human touch and no knowledge of what it means to live outside of a crate? Many will recall our blog when we took in some of these shattered dogs and their back-story. Alfie is a survivor, and he's going to make it in this world as if life depends on it.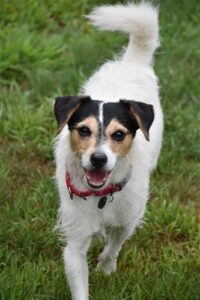 In the meantime, the wonderfully gentle, kind and understanding Michele of St. Huberts' day care fostered him.  With her gentle touch he has made great leaps and bounds, willing to trust a little once again. Unfortunately, Michele is not in a position to keep him but after a few months in her care knew that he had to move on. St. Huberts reached out to the 188 alumnae community but he was not ready for the one match that stepped up. So they reached out to JG asking if we would take him into our rescue and rehabilitate this beautiful little Jack Russell.
Since we are small and are all too familiar with this breed, and those who come from deplorable situations, they hoped we would offer him a chance at recovery. We of course agreed wholeheartedly and will make darn sure he is adopted into an appropriate and very knowledgeable JRT home. This time his forever family will be for keeps.
Rescue is not easy, no one is to blame for him ending up in the wrong hands, Jacks Galore has made plenty of mistakes in our many years saving Jacks; we all know we are dealing with a very difficult but brilliant breed.
A rough coat Jack Russell bred a Parsons, who weighs a very fine 14 pounds, will do best if he can be introduced into a proper home sooner rather than later. With this Jack, a fenced yard is an absolute positive MUST. Currently quite fearful of going on walks and venturing farther from the kennel that has become his security blanket; he will need to learn everything from the very beginning. For the first few days after his arrival, his walks were tentative and halting but willingly he ventured a few steps at a time. We even managed ½ a mile through the woods. Then quite suddenly, he became unsure of himself, and now will only go up to the agility field for short breaks. One day we even got an amazing zoomie.
We are hopeful that he will also learn to enjoy the company of another dog to help him lead the way.  His foster mentioned that there was a large goofy laid back female lab who met him, and Archie seemed fine.  Important that the dog does not show too much enthusiasm.  He might do well with a calm older "guide" to life.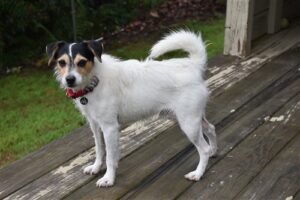 Alfie was well housetrained at his fosters, he walks nicely on leash when feeling brave, is very gentle when he takes treats although very selective as to what he will accept from you. His biggest problem is trust; he needs to learn to TRUST you. It took JG mom several days before he would allow any sort of interaction. Now I am able to do most anything with him and even though he looks warily out of his eyes at times, he knows that I will not harm him and that he can relax when we enter his kennel to nurture his soul.
A very special JRT, one that will reward his new humans with love and dedication once he knows that you have his best interest in mind. Currently on medication for his anxiety, we certainly hope that someday he will wean off them.
We are hopeful that his story will touch a heart, that someone will be willing to show this beautiful young man a long and happy life.  If you think you are that person, reach out.  We know he is just SO worth saving.  Apply to Adopt Alfie