With the very large influx of the Russell Refuge dogs into Jacks Galore's fold, we're reaching out to all of our supporters and hopefully some new fans, asking everyone to step up and help us reach our fundraising goal of $15,000. JG mom's sister has already pledged $5000 as a matching grant. Please help if you can right here!!!
The need is GREAT; as all the dogs have come up for their annuals at the time we took them in.  Time for updating shots, blood work needed to be done, numerous dentals on the seniors, there were a few spays and neuters and some of the dogs needed more extensive vet work done; this all adds up quickly!!! In addition we have had to buy quite a bit of heartworm pills, flea and tick medication as well of course extra food.
We are also constructing a temporary kennel to house the extra jacks, so we truly need everyone's assistance. We're so excited and happy that the dogs are here but we want to make sure that they are ready for their forever homes before they head out to a happy and active future.
As an incentive, for a $50 donation, JG alum Charlie's parents have designed a beautiful canvas tote bag.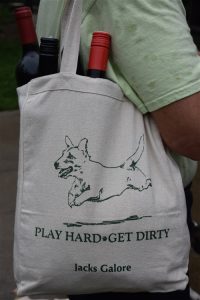 We hope you'll join us in reaching our fundraising goal, and be part of the future of the many dogs that have come into our care. Thank you as always for making rescue possible, for ensuring that so many dogs needing help find a forever family with a happy and active JRT life.
The best news though is that many are already heading home to their forever lives – and in part thanks to our vet who is making extra effort to vet them as we have adopters – and considering he is ALWAYS full and in high demand (we thought of cloning him) he is making it happen.  We are so grateful to Dr. Ray for always supporting rescue the way he does.
Your donation is 100% tax deductible as we are a 501 (c) 3 federally registered charity.