This time of year we've all scrambled and plotted to find some wonderful gifts for the people we love and the dogs we cherish. With the holidays already upon us, we're just now putting everything together to make this special day unique as we all do every year it comes around. I always like to mention what I think are some wonderful dog Christmas gifts, but these are also available year-round as a gift for those of us who love our treasured Jacks.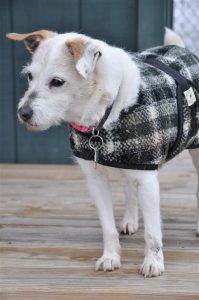 For dog owners in cold climes I love to mention the Foggy Mountain dog coats, because they truly are something any Jack lover will find useful. We love the fact that they're made in America, it's a small woman-owned business, and the coats' quality is superior to that of many on the market. They stand behind their coats and repair them at any time.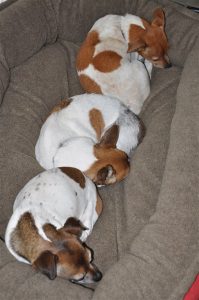 Although not a big catalog fan, I consider the Orvis dog beds some of the best around (unfortunately made in China); although somewhat pricey they last for a long time and our dogs always enjoy them.
There are also many wonderful locally run artisanal dog bakeries, and many ship and have gift packaging for holidays or special events. One in Boston, MA, the Polkadog Bakery, has the most amazing dried haddock skins and the Jacks devour them. Their fish are caught sustainably, and their other dehydrated items are top quality; and they support rescue!!!!
We can never forget the toys that our JRTs love, and as previously posted on our Facebook page, Glad Dog Nation has the most wonderfully recycled children's toys, made safe for enjoyment of any dog (or cat!!). They are not only a charitable organization run by volunteers, they give back to the community with spay and neuter programs, and best of all a percentage of your purchase goes to Jacks Galore! No better way to support two charities that serve and support the dog community in need (put Jacks into the code when you buy).
Of course many people are addicted to the Internet, we all have our weaknesses, and Amazon is certainly one of them. Whether buying books, dog food, or tools and items for the house, please remember that when you buy through the Amazon Smile program, with the link on our website, with every purchase you make a small percentage comes to our rescue. It all adds up, and quarterly we've been getting about $100, which covers the neutering of one Jack.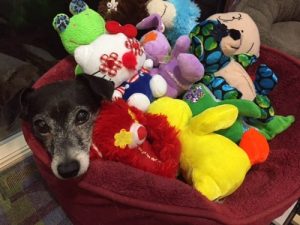 Please remember that this time of year many charities, both people and dog organizations in need, are desperate for your support as end of year bills come due. We're of course one of those always in need of financial help, a very small JRT rescue that puts all of our funding into the dogs in need. We can't do it without your help, and unfortunately we do need to ask for it. We hope that when you make your list to donate at the end of the year you'll include us in your gift giving. As always a huge thanks goes to all of you who have supported us throughout the year with your monthly donations, birthday checks, help funding matching grants, and donations made on a whim or sent via PayPal.
All of you are vital in the work we do, and though we may not say it often enough we are more than appreciative of everything you've given us, backing the work and our mission to save as many Jacks as possible. But the greatest gift of all is certainly all of you who have adopted a dog, not just from us but from any shelter or rescue you've visited. When we heal and love the Jacks in our care here at Jacks Galore, every one of them steals a small part of our heart, and the joy we feel when that special family comes along and opens up their arms to take in a dog who has perhaps not seen much good or love in their past, but now has a future to look forward to, is immense.
So during this very special holiday, one based on religious faith but that certainly encompasses anyone who enjoys and believes in the meaning of the season, we hope all of you will open your hearts to those in need. For those of us fortunate enough to have everything we could ask for, I hope giving and sharing are part of this special time of year.
Please remember to love and hug your dogs, keep them safe and warm, and honor your commitment to the very end. Merry Christmas to everyone, and a joyous time of year to all of you however you celebrate the season.