Piper is a two-year-old female, white and rust colored smooth coat Jack Russell mix, with a beautiful flowing tail weighing in at a mere 10 pounds. The coloring of her fur glistens a rich chestnut in the sun.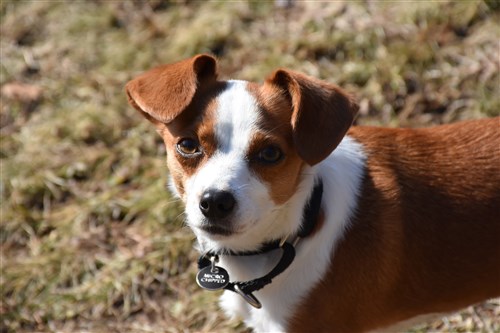 Piper came to us under very sad circumstances when her owner "Doc", a veterinarian who we worked with in Kentucky, passed away suddenly. His best friend and confidante has asked us to please take in his Jack Russells, of which he had seven. Piper is one of the first three that has come to us looking for a new forever home.
Piper came to "Doc" as an injured stray puppy having been hit by a car.  Her injury as a pup causes her no problems whatsoever, she's been fully x-rayed and properly treated, and except for her Jack Russell hop, there is nothing that is preventing her from being the very active little girl she is. She was, and is, much loved. Like with many of the dogs he took in and saved, she stayed as part of the menagerie enjoying her days at the vet practice, playtime in her fully fenced in yard and comfortably snoozing in his home.
Piper gets along with all dogs, she can give another dog a piece of her mind if they annoy her, but is gentle and sweet and sociable. She loves to run around and chase after the ball, gets there, looks at it; but don't think she's going to bring it back! Piper is housetrained, extremely well behaved, does fine in a crate, and rides beautifully in the car. She's a little ball of energy, gives tons of kisses and tail wags, and just seems to enjoy life to its fullest.
A very gentle little dog that deserves a home like she was given by "Doc".  We would want him to know that we've given the best care to his dogs, landing them in the most amazing forever homes.