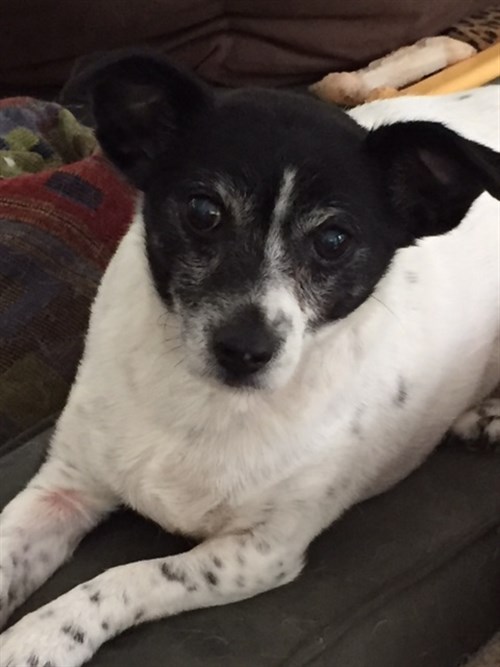 Muffin, a little black and white 11 year old female Jack Russell,  just recently came to Jacks Galore because she has severe health issues that currently requires expensive medication and food. A wonderful rescue we work with in West Virginia had adopted her out in 2016, after being found as a stray. But inexplicably Muffin became very ill and the elderly couple could no longer care for her. While the rescue was trying to figure out her health issues, she was placed in boarding for quite some time until she was stabilized and then they wanted to make sure she went some place that was able to care for her long-term.
In steps Jacks Galore after seeing this most adorable little Jack in need of permanent care. Thinking she would do fine in sanctuary, we brought her to us just this Sunday, mid June, and she is now settled safely and happily in our home. BUT that's not the end of her story.
We took her immediately to our vet with the reams of paperwork her wonderful WV vet had sent along with her and we're starting a new line of thinking to see if we can solve her problems. Unfortunately she's mostly blind, she wasn't that way until recently, and our vet is hoping that we can bring some of her sight back, and regulate whatever is causing her illness. The diagnosis by her previous vet was diabetes insipidus; a very rare form of diabetes. After doing several of his own tests, comparing notes, blood work and urinalysis; at this point Dr. Ray is not 100% convinced. Therefore we are starting a different trajectory to see if we can come up with another answer.
With the amazing speed and intelligence of a typical little jack, Muffin has mastered the dog door by figuring out the fabric on the ramp, wandering through the yard walking along the walls and fence, also figuring out where the dog beds are to sleep on. Every once in a while she will wander UNDER the Beagle mixes, run into another dog who then looks at her weird, and occasionally jumping on somebody when she needs to find some place to sleep.
Muffin is extremely clean; perfectly housetrained. She gets along with absolutely everybody in sanctuary, and I don't think I've seen her yet not wagging her tail. We are hoping that over time we might even be able to find her a permanent home if we can stabilize her health so that she can be the number one in a home. She loves belly rubs, loves to snuggle up close and loves kisses! She also enjoys walks. Does it get any better? Everyone at the vet's office fell in love with her, and she has started the strict diet here as she had gained quite a few extra pounds at the boarding facility; because she was overfed. She's not very happy with JG mom now as she has had a drastic cut in her food consumption. But we want to get her back on track to being the 14 pounds she should be and not the little butterball she now is.
We are sharing Muffin's story and will keep everyone posted on her progress and any information on what might be plaguing this little Jack Russell. Jacks Galore certainly hopes that some day soon we can put her up for adoption knowing that she'll woo anyone who meets her!
This is why we do what we do; this is why we need your support. We can do these things; save lives, help little dogs that need more expensive and extensive vet care and diagnostics.  This then allows us to keep them until they can find their forever family. Muffin will stay in touch, and we will post pictures of our little girl soon.