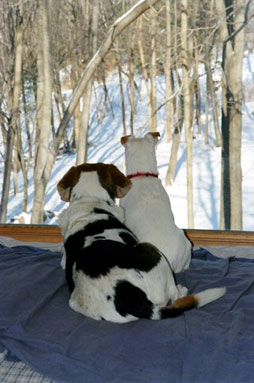 The following are resources that you may find helpful.
Jack Russell Terrier Club of America (JRTCA)
The Jack Russell Terrier Club of America (JRTCA) is the National Breed Club and Registry for the Jack Russell Terrier in the United States and is the largest Jack Russell Terrier club and registry in the world.
Russell Rescue, Inc. (RRI) is a network of volunteers dedicated to placing unwanted or abandoned Jack Russells into permanent homes. RRI arranges for emergency rescues throughout the country, and gathers information designed to match appropriate permanent and temporary homes.
A marvelous dog rescue oriented magazine with interesting and informative articles, book reviews, great rescue stories and lots of news on activities and the dog world in general.
A very informative vet website with articles about all things dogs.
This site sells unique hand-made note cards.  It was inspired by a rescued Jack Russell Terrier named Willow.
A montly publication that covers all things dog; training, dog food guides, health articles and lots of ineresting pieces about toys, bedding and anything dog related.  A journal written for dog people by dog people.
A private, not for profit rescue group located in Pittsfield, MA.  An amazing organization that takes in dogs, cats and other animals in need.  A dedicated group of people whose dedication to their animal's health, training, and future rehoming is stellar.  BHS adopts to approved out of state homes.  They also have agility classes and an amazing family dog school.
Belly bands for dogs to prevent marking or urinating indoors.  Well made, good prices and accomodating owners.  Supportive of dog rescue.
Please note that Jacks Galore is in no way affiliated with any organization, group or business referenced above.  The links listed above are provided for informational purposes only and should not be construed as an endorsement.