Georgie is an eight month old, all white smooth coat male Jack Russell, weighing 18 pounds, who came in to Jacks Galore with his mother and littermate. His family had to give them up because they no longer had the time or finances to maintain a house full of Jack Russells.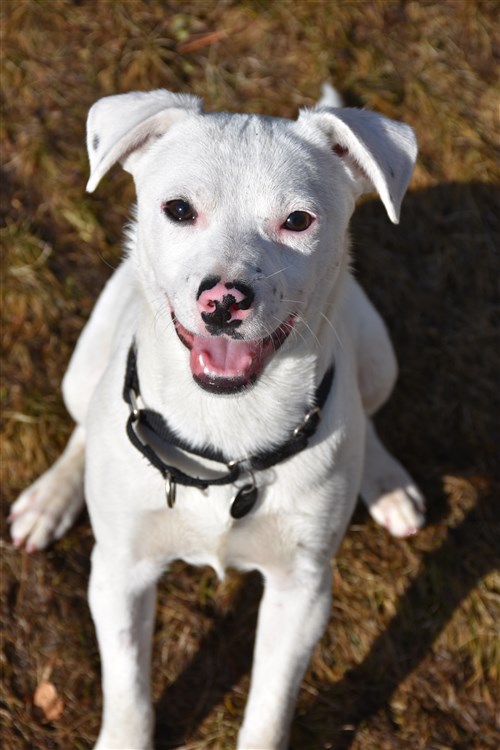 An extremely shy, but very sweet and soft dog, Georgie will need some confidence building.  Never socialized much with the outside world, they were pretty much contained within their immediate family. He gets along with other dogs and once comfortable with his human, extremely affectionate and loving.
Georgie is a ball nut, and can play forever, loves chasing his mom and brother around, grabbing the ball and running alongside. He has a beautiful long stride and uses it to run the entire time. This pup has never been leash walked, and does need some training in that regard, but is willing to learn. He was always just let out with his pack members do their business in the yard and then brought back in. He rides very well in the car, appears to settle well in a crate, and has been extremely clean in the kennel; but being a puppy we are sure he'll need a refresher course in house training.
We have not seen that he plays much with other toys, the ball is really a big focus for him, but we are sure that over time that he will learn to enjoy the interaction with his human as he does with his fellow dog pals. A beautiful young man longing to be the center of someone's world and having other dogs to play with and be kept busy.
A curious, affectionate and definitely a very loyal jack waiting for his new home.