Tota is a good example of why we are preparing for our annual fundraiser.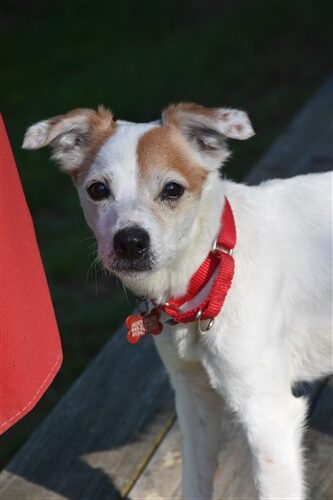 Her situation is quite sad, as she was a mental health service dog to a young woman with severe autism and was her constant companion for the last 6 years. Adopted by her family at age five from a shelter, she proved her worthiness being stable, calm and devoted. Sadly, the young woman needed to move into assisted living and was not able to take her dog. Terribly difficult circumstances prevented Tota from remaining in the home.
Tota is 11 years old, extremely sweet and gentle and very patient. Beautifully housetrained, she walks lovely on the leash and has tons of energy. However, in the last few months she has been losing an enormous amount of weight, so much so that her previous owner's vet was very concerned.
When Tota came to us, we took her immediately to our vet who noticed that she had lost more weight yet again. From an initial 24 chubby pounds, she is now down to 13. Her blood work is spot on, she has lots of energy; Tota appears healthy, is very alert and lively. Jacks Galore is going to make sure that we find out what is causing this weight loss, but it will take more testing and bloodwork.  Our fabulous vet thinks it might be as simple a problem as gastrointestinal irritation. We might very well just be able to help her gain weight back and keep her stable with some simple medication.
But, all of this costs money and this is where all of our supporters step in. In the middle of June, we will start our annual fundraiser. I remind you that unlike many other charities we only ask for your financial help once a year. This is when we ask you to step up and allow us the ability to continue for another year, caring for the Jack Russells who pass through our doors looking for their forever homes.
So keep an eye out for our fundraiser start up, wonderful T-shirts and tote bags once again with different themes to keep all of our Jack Russell lovers happy! This year will even have a special order T-shirt available for those who want to have something truly unique.
Keep an eye out for Tota when she's ready for adoption, the only downfall to this girl, and I say the ONLY negative, is that she does not like other dogs. Realistically this should not stop anyone from giving this girl a wonderful forever life, because she's very special, super sweet and deserves to be in a home once again.
Can't wait to work with all of our supporters and JG lovers to making us whole for the next year. Thank you for being there when the drive begins!