Fourteen Jack Russells in need arrived at JG on a sunny spring March day, after a two car pickup lead by JG mom with our trusted dog sitter and closest friend Terry. Thank you to our new rescue partner Maria for asking us to help her save these shy, but delightful, breeder jacks.  This pack came from the same place our original eight came from and will eventually know what it means to be loved, be part of a family, and be a real Jack once and for all.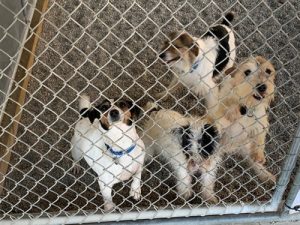 After a very long journey north, they have settled in the kennels, a lot of them ate vigorously, and they will take their time to relax and get the feel for their new surroundings. Every single one except for two will need full vetting, will need to make sure that we get to know their temperament and character well before we get in touch with any approved adopters. It is not yet clear who they are, what they like, or who they will become, and until then we will not even know if we have the proper homes for them yet.
These Jack Russells have not known anything but living outside. Each individual will need very specific homes so that they can blossom and grow to being a true JRT. Dogs that have lived in this kind of environment become a much different adoption than a dog that has lived in a home, surrendered to a shelter, has had contact with humans on a day-to-day basis, or came in as a stray. We have experienced this many times before and we pride ourselves on making sure each one is looked at as an individual dog. We make sure that their humans are willing and up to the task of molding them and guiding them in what might will be a very long and difficult journey.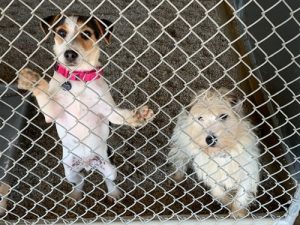 With lots of our activities curtailed because of COVID 19, we move forward on a day-to-day basis and make sure that the health and well-being of our humans is as protected as the future of these four-legged creatures. The world and the many rescue dogs are in a situation that none of us could have foreseen just a few short months ago. We will continue to stay in touch with our supporters; our approved adopters, and will never forsake the important task of rehoming all of the jacks currently at the rescue.
We understand that some of you may find yourselves in a situation that you could never have imagined, and we continue to be here for all of our dogs that have been adopted should anyone be in need, or want to reach out to the rescue. We remain in good health, the dogs are all happy and enjoying the beginning of spring weather.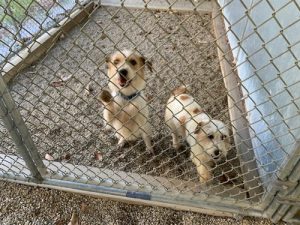 Moreover, even though snow is in the forecast, we look forward to the trees blooming, birds sitting on their nests and the warmer temperatures filling the air. There will be many long walks ahead, adventures of ball playing and chewing squeaky toys, being cuddled and loved while learning that we are here to show them kindness and care. They WILL learn to trust.
We continue to cherish all of your support, for believing in the work we do and understanding that our dedication and intentions is in the best interest of these jacks.  They are why we are here, they are what drives the rescue and they deserve our thoughtful and considerate attention.  We rescue JRTs; we all know they are not for everyone.  Their story continues……..