Raised $20,055  as of Aug 22
WE REACHED OUR GOAL!!!!!! THANK YOU THANK YOU
It's that time again, our annual fundraiser to keep us going for yet another year.  We have a super comfy summer all cotton T-shirt and a great new design tote bag (no more plastic) to thank you for your support. – GOAL – $20,000
Matching Donations
This year we have longtime supporters who have pledged matching gifts for a total of $30,000! The first $10,000 is matched one for one and the next $10,000 is matched two for one. – From YOU our supporters we need to raise $20,000!!
Donation Thank You Gifts
We have new all cotton T-shirt (donation of $35 or more) and canvas tote bag (donation of $50 or more) so for every donation that exceeds those amounts you can choose your thank you gift.  If you qualify for a gift, it will be sent to you at the end of the fund drive. Please indicate (in the PayPal instructions) if you would like a Canvas Tote Bag or a T-Shirt (indicate size for T-shirt). AND do not forget to add your mailing address!!
For donations of $35 or more – Pick a T-Shirt Gift (specify size)
For donations of $50 or more – Pick a Canvas Bag gift (or you can choose a T-shirt if you don't want a tote bag)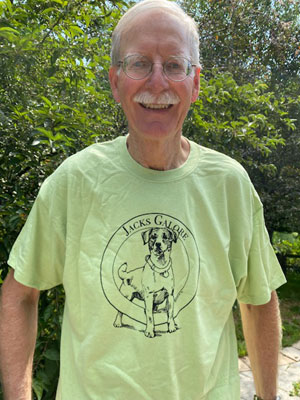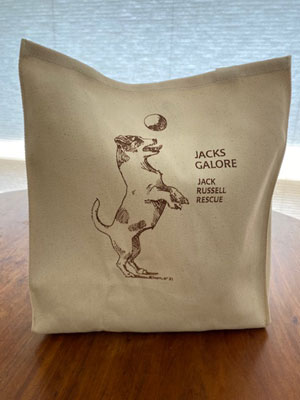 Supporting Jacks Galore
Your financial support gives a new life for over 100 Jacks a year. The best and most comprehensive vetting, including dentals if needed, highest quality food, and keeping up with monthly medications to keep all dogs fit and healthy. This also allows us to keep the kennels up and running. With your help, we can make it an amazing year allowing us to bring more jacks in need into rescue. We realize these tough times continue for all, but if you are able we hope you will be part of this yearly effort. Many jacks are starting to look for help: new homes, new families and major vet care.
With your support we can save lives; we can offer some much needed love and care. Please help us get there – we count on all of you to keep our doors open!!! We ask for your support.