Jacks Galore has decided that Cullen will be coming into the rescue's sanctuary. This most delightful Terrier will become part of our extended family and join our pack of lifers.
WHY?  Despite him having an enormous amount of energy, very playful, curious and so wanting to be with you, he does have some major kidney issues that we fear will make it uncomfortable for people to foster or adopt. He has quite a bit of "leakage" at night totally unaware of the problem, we know this will be unpleasant for anyone to have to deal with the continuous cleaning of his bedding and making sure that he stays comfortable. A JRT with some day to day accidents, we have the proper flooring in our home to deal with jacks who become incontinent.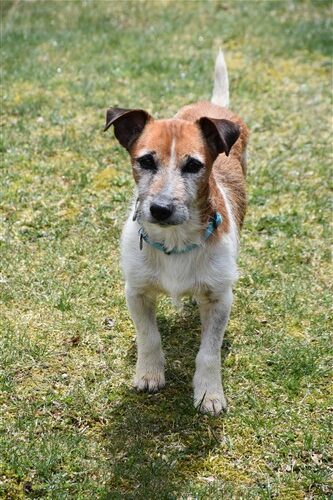 Since coming to us, this handsome JRT has been in the beginning stages of kidney failure. We really do not know how much time he has left, but we're willing to make him happy, stay healthy and do everything clinical wise to keep him comfortable until his kidneys become too weakened to function properly. The good news is that he might truly have up to another year of quality life. Jacks Galore has placed him on a partially restricted kidney diet, because Cullen has rejected some of the food, we are trying to at least provide him with a proper nutritional diet that will slow down any kidney disease.
This gentle, handsome little Jack Russell Terrier now sleeps under JG mom's arm as close as possible to a heartbeat.  Perhaps he just wants to know that he is still truly alive and loved.
You can help us support the veterinary care for Cullen by donating during our upcoming fund drive, or becoming an automatic monthly donor through the website. Either way we welcome your financial support to continue helping him with his much-needed veterinary checkups and bloodwork. Thank you for being there to support us in our mission to give little Jack Russells like Cullen a quality end-of-life.

Every dog deserves to know that he will be cared for and loved until he crosses the bridge.