Shelley went through a lot in her very short life, but once she arrived at Jacks Galore we knew she had been worth saving, and we were very grateful that we had been entrusted with her care by the wonderful and caring Dr. Sheldon Yessenow and staff at the Oronoque Animal Hospital in CT.  Dogs are amazing creatures, and this little Jack Russell Terrier cross showed nothing but stoicism and the desire to live life and not dwell in the past; but go forward with gusto.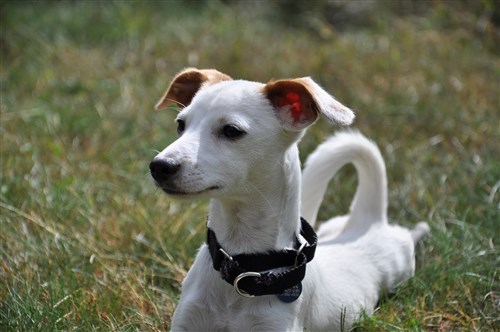 Healing quickly with youth on her side, she soon wormed her way into everybody's heart and loved every dog she met. She enjoyed playing with her roommates; another young puppy and an older foster jack.  She shines when showered with affection by any human willing to cradle her and give belly rubs. A wonderful vet check with JG's Dr. Ray Reiners shows her future to be bright for a long and healthy life. Certainly she will carry the signs of her physical disability with her, her right rear leg will always remain shorter than her left, and her toes will not look quite normal and her gait will be awkward. But this has never stopped her from racing like a fruitcake, chasing her fellow jacks, or stealing a stuffed toy or ball from her roommate. She does not notice her physical differences and it certainly doesn't hinder her from enjoying life.
There's always that possibility that she will have to have surgery sometime in the future; so what sort of a home are we to find? Certainly someone who's able to care for her, keep an eye on her progress and growth, but also know when to contact a vet if something seems amiss. We knew Shelley needed a home with a dog pal; she shines in their company and also loves to play. She'll never be a hiker, but she will certainly enjoy nice casual walks with her family and snuggling on the sofa for her tummy rubs. People had shown interest, but she certainly is a very special dog who needs a very unique home in order for her to blossom in her many years ahead.
Not having posted her for adoption, but certainly telling everyone her story, allowed us to ask for help to cover her medical costs; and in doing so this gave her quite the publicity. Everyone stepped up to the challenge so we were able to assist, and she came to us fully healed and ready to be whisked away by someone falling in love. Several people showed interest, but one particular email made us smile. A previous adopter was very interested in adding her to her family and showing her the life that she had never experienced before. Two Jack pals and a fully fenced in yard, and a mom with lots of time for the pooches, so we decided to give it a go.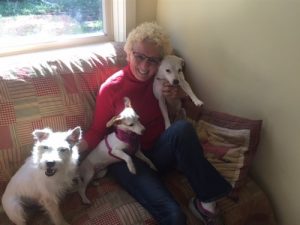 The big day came, and all three dogs got along fabulously. We thought that Darla, a little Jack mix adopted from us, and her Jack pal Diesel, would be perfect companions to young Shelley. Off she went, all three quietly riding in their crates in the back of the car, and home to the Cape were so many of the JG alumni reside. She will have an amazingly active and loving life ahead, she'll be cared for and her physical disability will never be a problem.
We're so grateful that we had the opportunity to take a little dog who had never known any kindness until she was saved by two Samaritans on a Connecticut road and brought to a vet for evaluation. From then on she would only know love, proper medical care and caring. Thanks to all of you we were able to cover her costs, and she is now going to lead a life that she could never have imagined. We are so grateful for our supporters, for vets that hold true to their oath of care, and for those good people who dared to stop and care enough to try to help.
Good luck Shelley, you have been blessed with your forever  family, and because of that you will be called Magic.