Third time a charm. Cosmo, a senior male Jack Russell terrier of diminutive stature, had his life saved twice after his owner abandoned him not once, but two times in two different parks, in two different states because "he was old, pees everywhere and I do not want him anymore".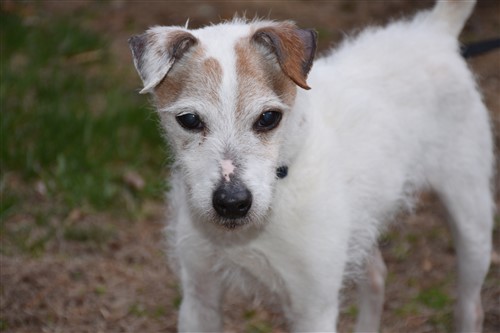 First, he was found at a park in RI, brought to an animal rescue, and then reunited with a family member after countless media postings.  According to the rescue, he was so happy to see his family again.
THEN, he was found running down a main road near a park in CT after being abandoned in that state.  Cosmo actually lived in MA but taken to RI and then CT to get rid of him.  Cosmo ended up at Animal Care and Control in CT where he was noticed on the found page by the first rescue who took him in; alerting them he had been reunited just the day before with a family member. The owner was found and then signed the dog over to the police so that he could be adopted to a family who wanted this old guy.
Jacks Galore stepped in when so many supporters and adopters asked us to please help this little JRT. How could we not say yes? One of JG's adopters picked Cosmo up and we met a very sweet, skinny and frightened dog and brought him to safety.
Being featured in the newspaper and on TV (link here) to make people aware of the cruelty inflicted on this old jack, he has become quite the celebrity. All good, except our little senior needs quite a bit of vetting.  A major dental is scheduled, he needs his shots, a chip, bloodwork, his pads are all worn, he was full of ticks and Cosmo is very malnourished and underweight.
Slowly warming up to our care, eating three good meals a day, and with vigor, he has started to enjoy the green grass under his worn pads and has quite the energy.  Who would have expected anything less from our favorite little terriers?  He will be up for adoption once vetted and after we have gotten to know him better to make sure that THIS time his new home is for keeps.  Very shy, but becoming more comfortable with our short walks and petting sessions, he will come around soon.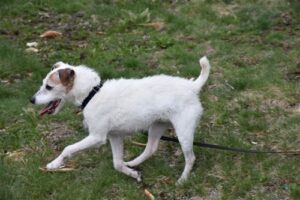 Follow our little brown and white rough coat senior as he makes his way to a loving trusting forever family. If you would like to help with his vetting costs, we will gladly accept donations towards his care.
We would like to thank the Stonington Animal Care and Control who so wonderfully facilitated the transfer of Cosmo to Jacks Galore.  Thank you David and Corina for your kindness and care of this little dog; and your commitment to saving lives.