Casey joined our family as our third adopted Jack Russell in 2004. 13 wonderful years he graced our family with his amazing temperament, sweet character, and full Jack Russellness. A dog pal to every four-legged creature who walked through the doors (cats excluded), the perfect tester dog that knew all the right moves and could make a friend of even the crabbiest of Jack Russells.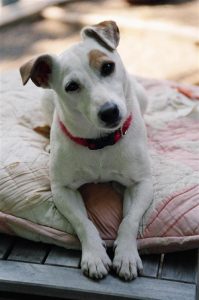 Tons of energy, sweet soft kisses, and the most adorable little face and deep dark eyes that made you smile when you looked at him. Found on the Hudson River Bridge, beset with ill health and sore feet; for months we took him to the vet not understanding why he was so tender when trying to walk. But with lots of care, and a home where he was loved, he soon grew into the most energetic, healthy and muscular little jack that we had ever adopted.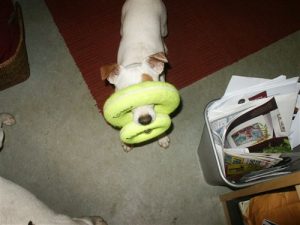 Casey's very best friend was Becky, an adopted female beagle mix who came with us up from Virginia and was truly his soul mate, who crossed the bridge a few years ago and is certainly waiting to greet Casey as he heads to join her and the others. Casey leaves us with a Jack Russell memory that we will cherish for a very long time.
In typical true JRT form he fought his aging with strength, perseverance and sheer stubbornness. But it was time, and even though two or three times we had some extra weeks given to us with the help of our dear Dr. Ray, we knew that the time had come. So on the way to be held in our arms, so we took him to our favorite frozen yogurt place and let him lick out the bowl all by himself once again without any other dogs looking to take it away.
Loved to the end, and for evermore, he will truly be missed by us.