ADOPTED!!!  Blackjack went off to a world of busy barn days; at a boarding stable where he will keep his fur mom company.  He will be part of a family that consists of a rescue Aussie pal, lots of chickens, cats and oh pigs too!!  A young happy little guy he will just relish being that busy and part of an active household.  He will need some major training; the puppy is still in him, but was always wanting to please his humans and thrived on the attention they showered him with.  Happy busy days Blackjack, you dealt your cards right – you won this hand!!
An exuberant 3 month old jack mix pup; tricolor, jet black body with four white paws and delightful brown markings: Blackjack commandeers a presence when he stands to attention.  When fully grown he should be a lean, lanky and long legged 16 pounds.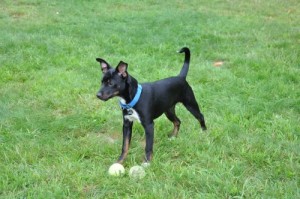 A happy young male who came in with Ruby, he was left in a gutter and was scooped up by a dog lover and brought to Jacks Galore for adoption.  Adoringly sweet, playful, boisterous and puppy energetic, Blackjack thrives on people's company.  He is walking very well on his harness, enjoys the ball tremendously, and is learning to bring it back although JG thinks this might take some more practice.
Rowdy in play with other dogs, he jumps and leaps and goes crazy when pooches call to play, and relishes their company.  He is polite at dinner time and amazingly smart in that jack way.  He is very good in a crate and rides lovely in a car, and was a hit at the vet when he went in for his neuter, shots and check-up – receiving a score of 100% for loving from the staff.
Blackjack needs to go to a home soonest: puppies should not be living in kennels; they need to be trained, loved and brought up in a family environment.  Come and bet your cards on Blackjack and you are surely bound to get a winning hand!!!!