Zsa Zsa is an eight-year-old black-and-white broken coat female Jack Russell Terrier with a lovely uncropped tail. She weighs a very elegant and petite 11 pounds.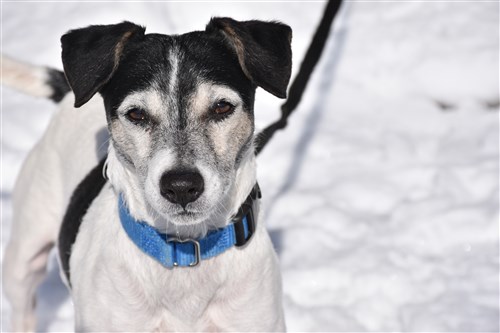 This delightful little girl came to us when her owner moved into an apartment and no longer able to provide her with the exercise and time needed to keep her happy. She has a very elegant walk, is beautiful on leash, and enjoys the 2 to 3 miles she is getting daily. Filled with great energy, she loves to chase the ball and is the typical opinionated JRT.
Zsa Zsa lived with a large senior Weiermeraner but was definitely the boss and ruled the household. There is no doubt that she is extremely picky about her dog friends. This dog is very clean, has delightful manners, and enjoys snuggling at the end of her activities.
She travels well in the car and she is crate trained but there is no need for confinement unless riding in the car. There is no doubt that this girl is opinionated, and can give you a lot of voice to let you know who is in command.
She enjoys people and being the center of attention. Zsa Zsa is very gentle, very sweet and kind making for a delightful companion and worthy of her human's affection.