Zelda is a seven month old black and white rough coat female shorty weighing a wee eight and half pounds. Little Zelda came to us with the second group of dogs from a deceased breeder. Zelda has severe heart disease.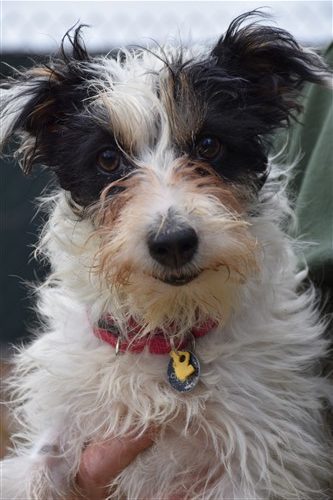 She is certainly a little runt, and found to have quite a strong heart murmur while checked out by the first vet before she came to us. After she arrived at Jacks Galore, Zelda was diagnosed with severe heart disease. (see her Blog) This sweetheart of a Jack has a 5/6 heart murmur; terribly high and extremely dangerous at such a young age.
We did spay her, and she survived the surgery with flying colors and then immediately the next day we took her to the emergency vet specialist to see their cardiologist in Albany, NY. The wonderfully competent Dr. Kent gave us some bad news after having her in for a lengthy full diagnostic exam.  We were told that she most likely will not live a very long life. A most amazing little happy girl who gets along with all dogs and adores humans.
We do hope that someone out there will be willing to adopt her and give her the medical attention she requires and tons of love for the probable short time she has on this earth. If we do not find an appropriate forever home, she will obviously become a sanctuary dog, but we want to give her the chance to have a home where she will be the princess.
Zelda is slowly learning leash walking, but since she must lead a quiet life with moderate exercise, she will learn quickly enough. Even when she is on the agility field with her roommate having small bursts of allowed zoomies, it is evident she self regulates and finds that it is quite preferable to be snuggling on your lap even while on the agility field.
The length of life with such heart disease is of course difficult to ascertain. The vet thought with everything being "perfect" that she could possibly live to six years of age, worst-case scenario she might not make it past two, maybe less. Her death would most likely be sudden, but there would be no suffering and there would also be no pain. We are not sure if one of our adopters, or anybody who follows us looking for a Jack to love, is up for the task.
It might very well be that Jacks Galore sanctuary is where she ends up until she crosses the bridge. However, that would not be so bad; all our jacks love their pals, there are dog beds everywhere, they are loved, cuddled and have lots of outdoor activity. She would know nothing but joy, lots of love, but most of all have the chance at being a real dog rather than a breeder sitting in a pen with a dirty box, living outside. We just thought we would throw it out there to see if the right home was possibly interested in stepping up.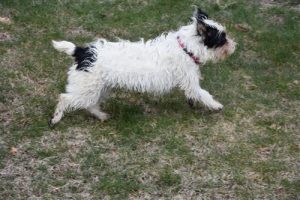 In the end that is what WE are here for, that is why Jacks Galore exists, we take them all in no matter the reason and should they get homes we are absolutely over the moon. But should they not? Well then, she will just become part of the pack and be taken care of by our marvelous Dr. Ray and the South Street vets, its staff, and of course, we will take our six-month visits to see her cardiologist Dr. Kent at the specialist hospital. I can think of no greater extended family to welcome her warmly.