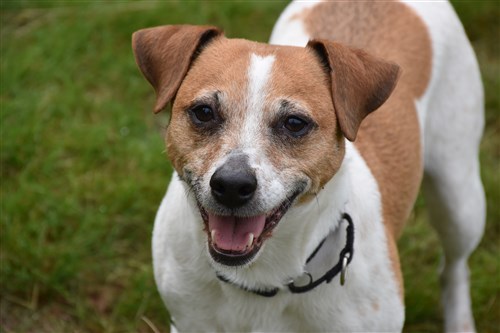 Zach is an eight-year-old male, smooth coated brown and white Jack Russell who weighs 21 pounds, with long legs and a sturdy body. This is a Jack with a soft personality, a quiet jack who sadly lost his owner into hospice. He was then taken in by the dog walker who then reached out to us.
Zach was a city dog, and it's obvious by his lovely walking manners that he did not have much experience in the woods. But he's getting the hang of being a jack and is discovering country critters in the fields such as big wild turkeys and squirrels. A very mild-mannered dog who is very loving and dear to his humans, he does ride beautifully in the car in his crate, but does have a dislike of crates in a home environment. The reason for this distaste is because he spent many months in the vet's office confined to a small crate cage while his owner was undergoing cancer treatment.
He is extremely well housetrained, so there's no need to confine him, and he was in day care while waiting to come to us and we are told he got along great with other dogs. He's not bothered by other dogs here either, but currently does not have a friend to play with. He absolutely loves to play ball, and is extremely good at bringing the ball back to you and waiting for the next toss.
We must admit that Jack is quite depressed, he's very aware that he no longer has his owner, but he is now slowly willing to go on longer walks and enjoying the new adventures of smells and sounds. This JRT is very excited happily wagging his tail when it comes time to venture out of his kennel. This dog was obviously much loved and well taken care of, but it is very difficult to explain to Zach that he will have to wait until the perfect forever home comes along for him.
Zach is a very well-adjusted dog that will bring great joy to someone who likes to go for rambling walks with a dog that constantly looks to you for approval. A wonderful gentleman sure to show you that he's able to trust again.