ADOPTION PENDING!!!!
Woolly is a five-year-old brown and white rough coat male JRT, weighing 15 pounds. His glorious fluffy coat makes him appear much larger than his true petite frame.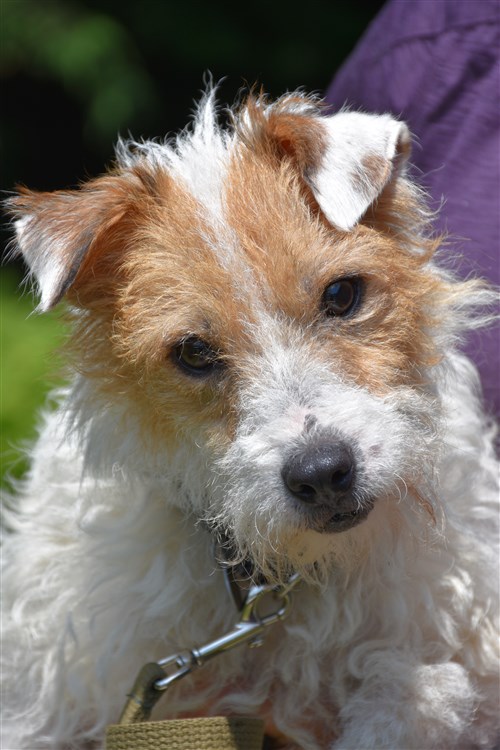 Known as one of the New Jersey crew he was one of the dogs taken from the 188 Jack Russell hoarding situation. Woolly from the start was one of the friendliest and attention seeking of the jacks.
He is extremely gentle with other dogs and listens to their cues. Knows nothing about leash walking, but will learn.
Like all of the Jack Russells that came from this horrific breeder, he has some issues, and will need some training.
Woolly is a spinner, left in a crate 24/7, and when confined to a small area or in a crate he spins constantly. Because of this, he does have a slight head tilt, and when carried will sometimes sway his head from one side to the other. This does not at all affect his health or his ability to be a normal dog and we assume will lessen over time. When given more space he enjoys walking around, running gleefully in the grass and engaging his human for attention.
Woolly has a beautiful sit when being offered a treat, something he had obviously never known before, but now relishes. Woolly will sit with his paws in the air asking for more. This little dog has the most soulful teddy bear eyes that sear deeply into your heart, and his longing for human touch is heartwarming. Woolly is beginning to understand the concept of house training, but like his fellow NJ jacks, needs extra work and patience.
Confined to their crates at all times, they taught themselves how to keep their crates clean by standing up and going to the bathroom "outside" of the crate. We hope he can unlearn this practice. We do not wish for Woolly to be crated ever again, except for car travel and if required for an emergency.
An exceptionally sweet, kind, gentle and funny little dog, anyone would be lucky to have this teddy bear is a part of their family. Best of course if Woolly goes home with another dog, male or female, to help him learn what being a dog really is. Woolly has a dental scheduled in August and then he will be ready to go to his forever home.