Winston is a seven-year-old tricolor rough coat male Jack Russell who weighs a lean 16 pounds. Winston is one of the NJ crew that came from the puppy mill into our care.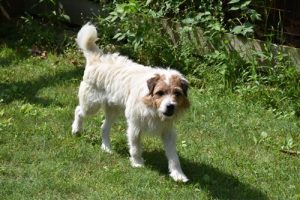 This dog is the most aloof of all of the Jack Russells that came with that group and needs an enormous amount of emotional healing. Winston does not get along with other dogs, and right now is just showing little bits of himself when it comes to being with a person.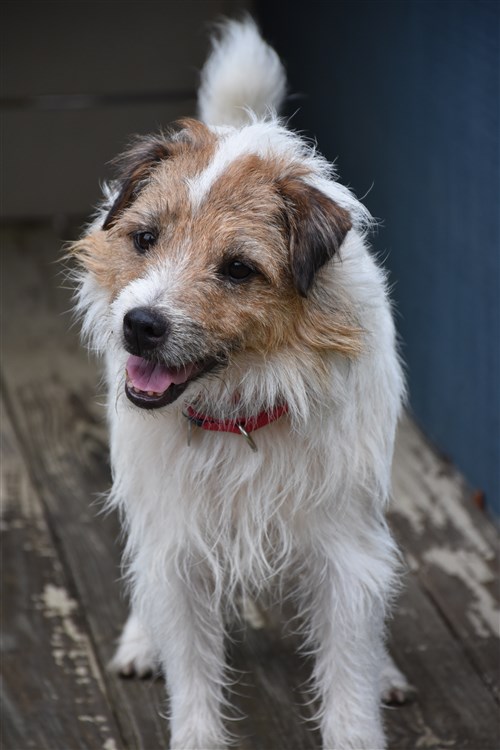 He is very gentle when he takes something from your hand, all of them learning that treats are a nice reward. Every day small steps towards accepting affection, but not seeking it out. If you look deep into his eyes you can tell the desire to learn more is there, he just needs a very special person to bring it out of him. Every day we do notice that his tail wags more, especially when taken out of the kennels and up to the agility field.
The leash terrifies him so he will need extra special time and patience to learn that can take him to nice places and new adventures. Winston is probably the most housetrained of all that came in with the group, but like with any dog that lived all his life in a crate, he will need to understand the concept once he moves into a home. Well behaved at the vet, and rides nicely in the car.
Like all the other NJ puppy mill pups, he has no interest in toys, and no concept of what to do with them. A very handsome, calm and quiet dog, Winston deserves an extra special home where he can blossom into the character we know that hides deep in his soul.